These cereal treats are so easy to make and only require a few simple ingredients. Plus, they're always a hit with the kids!
Ingredients
3 tablespoons butter
6 cups miniature marshmallows
1/2 cup peanut butter
5 cups toasted oat cereal
Instructions
1. Spray a 13 x 9 inch pan with non-stick cooking spray and set aside.
2. In a large bowl, melt the margarine in the microwave.
3. Add the marshmallows and stir to coat them in the melted margarine.
4. Microwave on high for 1 1/2 minutes or until smooth when stirred for 45 seconds. This will melt the marshmallows completely.
5 Stir in peanut butter until combined then add cereal all at once and stir quickly to coat evenly. With buttered spatula, press into prepared pan gently pressing it down so its level throughout the pan. If desired, you can sprinkle some additional cereal on top for decoration before cooling Cool and cut into squares
Nutrition Facts
Calories: 140
Fat: 7 g
Cholesterol: 15 mg
Sodium: 95 mg
Potassium: 60 mg
Carbohydrates: 18 g
Fiber: 1 g
Sugar : 8g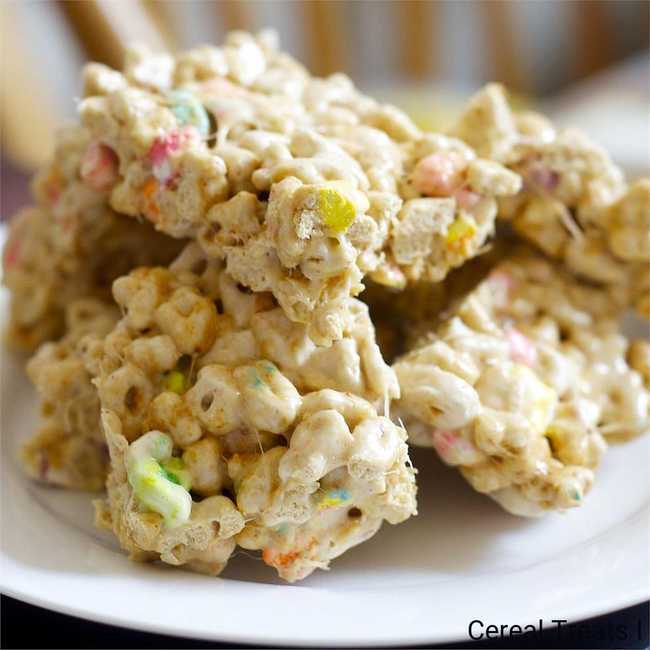 How do you make cereal treats?
Cereal treats, also known as "rice krispie treats" or "marshmallow squares", are a popular American dessert made from cereal, butter, and marshmallows. There are many variations of cereal treats, but the most common recipe calls for rice cereal, margarine, and mini marshmallows.
To make cereal treats, you will need: -1 cup of margarine -1 10 oz. package of mini marshmallows -6 cups of rice cereal -a greased 9×13 inch baking pan
First, melt the margarine in a large pot over low heat. Add the marshmallows and stir until they are completely melted. Remove from heat and add the cereal, stirring until it is evenly coated with the marshmallow mixture. Pour into the prepared pan and press down firmly with a spoon or your hands. Let cool for about an hour before cutting into squares.
Can you use other cereal to make Rice Crispy Treats?
If you love Rice Crispy Treats, you may be wondering if you can use other cereal to make them. The answer is yes! You can use any brand of cereal to make these no-bake bars. They will turn out chewy, gooey, and sweet.
What cereal can I use for Rice Krispie Treats?
There are many cereals that can be used for Rice Krispie Treats, but some are better than others. Regular Rice Krispies are the best cereal to use because they create the perfect texture and flavor. Cocoa Krispies are also a good choice for cookies & cream flavored treats. If you want to make birthday cake flavored treats, add 1/3 cup dry cake mix to the marshmallow mixture. For chocolate peanut butter cornflake treats, use Cornflakes as the cereal.
What can I use instead of marshmallows for Rice Krispie Treats?
There are a few things you can use instead of marshmallow for Rice Krispie Treats. One option is to use almond butter and maple syrup. This combination will create a sticky mixture that can act as a replacement for marshmallows.
Another possibility is to use melted chocolate in place of the marshmallow. This will give the treats a richer flavor and more decadent texture. Finally, you could try using fruit purees or jams as a glaze on top of the treats. This would add some sweetness and extra flavor without making them too heavy or cloying.
What kind of cereal do you use for marshmallow treats?
When it comes to making marshmallow treats, there are a few different types of cereal that can be used. Rice Krispies, Corn Flakes, and Cocoa Puffs are all popular options. However, Cinnamon Toast Crunch and Fruity Pebbles are also great choices.