Delicious Caramel-Pumpkin Blondies Recipe
I've been making these Caramel-Pumpkin Blondies since I was a kid, and they have always been a hit! The soft, gooey texture, along with the hints of pumpkin and warm caramel, makes these blondies a must-have during the Fall season. With just the right amount of sweetness, these treats are sure to please any crowd. So, if you're looking for a simple yet delicious dessert, give these Caramel-Pumpkin Blondies a try!
Caramel-Pumpkin Blondies Recipe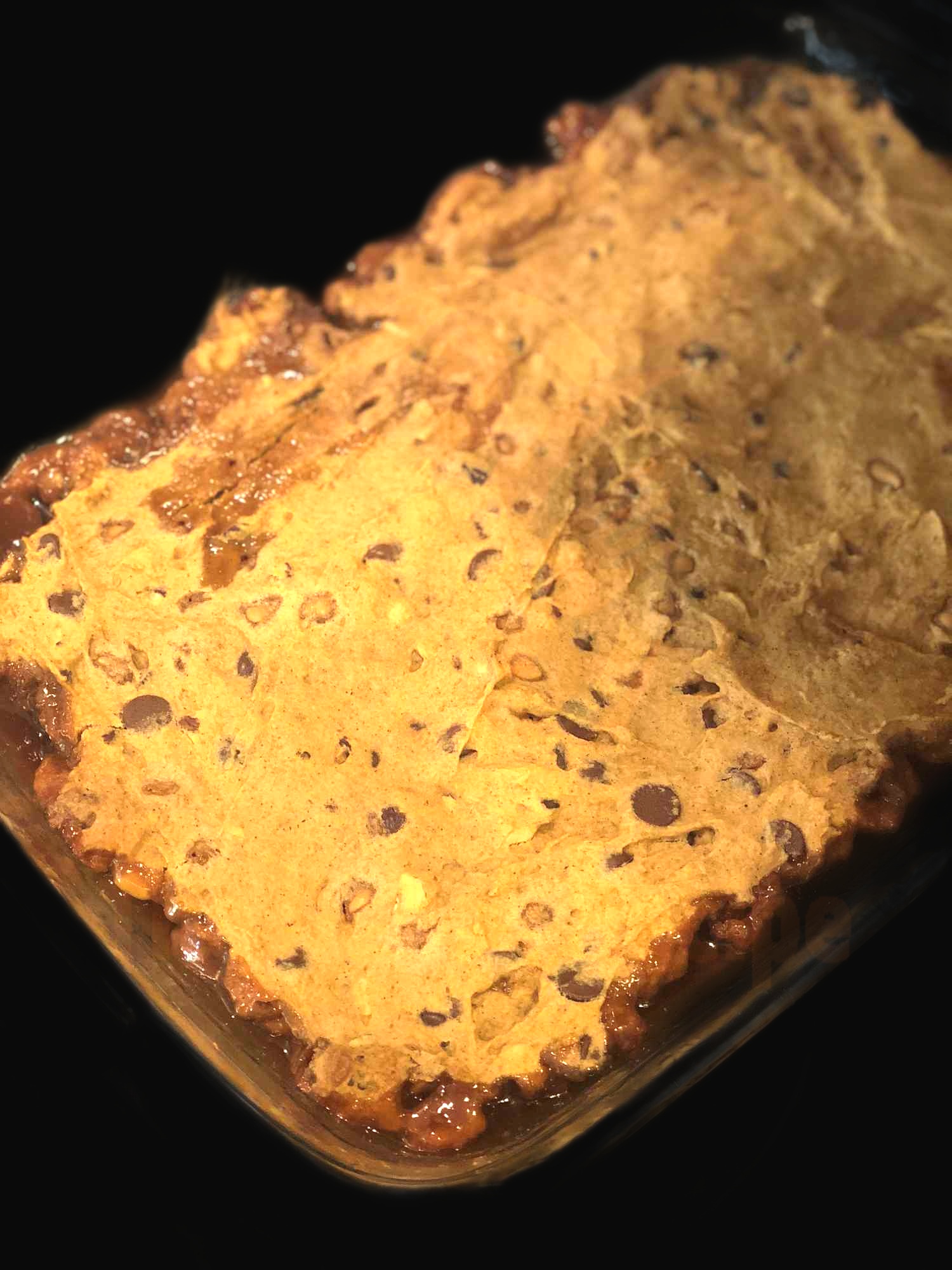 Ingredients
½ cup (1 stick) butter, melted
1 cup light brown sugar
2 large eggs
½ cup pumpkin puree
1 teaspoon vanilla extract
1¼ cup all-purpose flour
¾ teaspoon baking powder
½ teaspoon ground cinnamon
¼ teaspoon ground ginger
¼ teaspoon ground nutmeg
¼ teaspoon ground cloves
½ teaspoon salt
1 cup caramel bits or chopped caramel pieces
Instructions
Preheat oven to 350°F. Grease an 8-inch square pan and set aside.
In a large bowl, combine the melted butter, light brown sugar, eggs, pumpkin puree, and vanilla extract. Mix until all the ingredients are well blended.
In a separate bowl, sift together the all-purpose flour, baking powder, cinnamon, ginger, nutmeg, cloves, and salt.
Slowly add the dry ingredients to the wet mixture and mix until everything is incorporated.
Fold in the caramel bits or pieces.
Pour the batter into the prepared pan and spread evenly.
Bake for 25 minutes, or until a toothpick inserted into the center comes out clean.
Allow the blondies to cool for 5 minutes in the pan before transferring to a cooling rack to cool completely.
Enjoy your delicious, homemade Caramel-Pumpkin Blondies!
Nutrition Facts
Calories: 280
Fat: 13g
Carbohydrates: 39g
Protein: 5g
Sodium: 220mg
Sugars: 28g
What makes caramel-pumpkin blondies so special?
Caramel-pumpkin blondies have an irresistible combination of sweet and salty flavors that make them stand out from other desserts! The combination of gooey caramel and rich pumpkin flavors creates a unique taste that is sure to please any sweet tooth. The blondies are also extremely easy to make, requiring only a few simple ingredients that are most likely already found in your pantry. Plus, the pumpkin makes them even more moist than a classic blondie, making them a must-have treat that everyone will love.
What are the health benefits of caramel-pumpkin blondies?
The health benefits of Caramel-Pumpkin Blondies are numerous! Forget what you thought you knew about indulging in treats—these blondies are a delicious way to fuel your body with all the good stuff. Here's why:
High in Fiber: Caramel-Pumpkin Blondies are packed with fiber, which helps to promote digestion, reduce cholesterol, and even regulate blood sugar levels.
Full of Nourishing Ingredients: These blondies are made with wholesome ingredients like pumpkin puree, oats, and nut-butters, giving them a delicious flavor and providing the body with plenty of vitamins and minerals.
Low in Calories: With just 120 calories per serving, Caramel-Pumpkin Blondies are the perfect snack for anyone trying to watch their caloric intake.
Heart-Healthy: The oats and nut-butters in these blondies are full of healthy fats, which can help to reduce the risk of heart disease.
Gluten-Free: For those with gluten sensitivities, Caramel-Pumpkin Blondies are a great option, as they contain no wheat or gluten.
So, the next time you're looking for a tasty and nutritious snack, reach for Caramel-Pumpkin Blondies! Not only are they delicious, but they're also packed with fiber and other nourishing ingredients, making them a great choice for anyone looking to give their body the best.
What tips and tricks can be used to make the perfect caramel-pumpkin blondies?
Preheat your oven to 350 degrees Fahrenheit.
Line an 8×8 inch baking dish with parchment paper.
In a large bowl, cream together 1 cup of softened butter and 1 cup of light brown sugar.
Beat in 1/4 cup of granulated sugar, 1 teaspoon of vanilla extract and 1 teaspoon of ground cinnamon.
In a separate bowl, mix together 1/2 cup of pumpkin puree and 1 large egg.
Gradually add the pumpkin mixture to the butter mixture, stirring until combined.
Add 1 cup of all-purpose flour, 1/4 teaspoon of baking powder, 1/4 teaspoon of baking soda and 1/2 teaspoon of salt. Stir until blended.
Pour the batter into the prepared baking dish and spread evenly.
Bake for 25-30 minutes, or until a toothpick inserted in the center comes out clean.
Allow the blondies to cool completely.
Prepare the caramel by melting 1 cup of caramels in a double boiler.
Once melted and smooth, pour the caramel over the cooled blondies.
Allow the caramel to cool and set before serving.
How can caramel-pumpkin blondies be used for special occasions?
Caramel-Pumpkin Blondies are the perfect treat for any special occasion! Whether it's a birthday, anniversary, or wedding celebration, these delicious bars are sure to be a hit. Not only do they look great, but they taste even better! The combination of caramel, pumpkin, and blondies creates a rich, flavorful dessert that will leave your guests wanting more. Plus, they are so easy to make that you can have them ready in no time! So if you're looking for a crowd-pleasing dessert for your next special occasion, look no further than Caramel-Pumpkin Blondies.
What unique flavor combinations are found in caramel-pumpkin blondies?
A delicious treat any season of the year, Caramel-Pumpkin Blondies offer a unique flavor combination. The combination of sweetness from the caramel with the subtle warmth from the pumpkin creates a tantalizing balance that is guaranteed to tantalize your taste buds. With a delightfully gooey center and a crunchy exterior, these blondies are sure to be a crowd pleaser.
The key to creating the perfect Caramel-Pumpkin Blondie is to get the right balance between the sweetness of the caramel and the subtle warmth of the pumpkin. This balance is achieved with a combination of brown sugar, white sugar, and pumpkin puree. The pumpkin puree provides the perfect touch of warmth while the combination of sugars creates the perfect amount of sweetness. To finish off the flavor combination, cinnamon, nutmeg, and ginger are added to bring out the spiced notes of the pumpkin.
The result of this unique flavor combination is a treat that is both sweet and subtly spiced. The combination of these flavors creates a unique and delicious flavor that is sure to delight. Whether you're in the mood for a sweet treat or something a bit more savory, Caramel-Pumpkin Blondies are sure to hit the spot.