Out Of This World Cannoli!
I have always been a lover of Italian desserts, but there is nothing quite like a classic cannoli. I remember the first time I ever tried one — the crunchy pastry shell filled with creamy ricotta, chocolate chips, and a hint of orange zest. It was an unforgettable experience, and since then I have been on a mission to recreate the perfect cannoli. After countless attempts, I think I have finally perfected the recipe — and I'm excited to share it with you!
Cannoli Recipe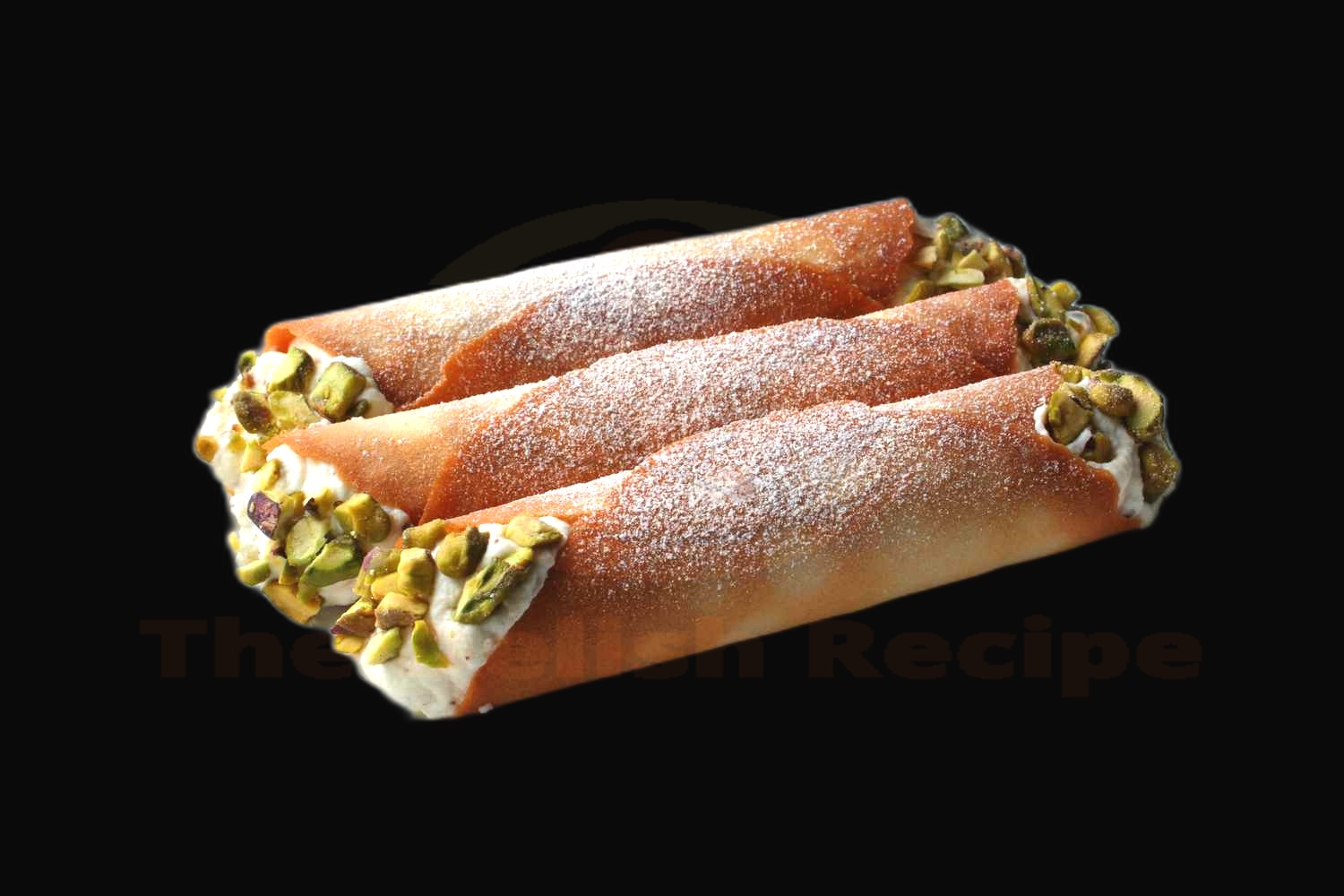 Ingredients
3/4 cup all-purpose flour
1 tablespoon sugar
1/2 teaspoon salt
1/2 teaspoon cinnamon
2 tablespoons butter, chilled and cubed
2 tablespoons vegetable shortening
1/4 cup cold water
1/4 cup ricotta cheese
2 tablespoons confectioners' sugar
1/2 teaspoon vanilla extract
2 tablespoons mini chocolate chips
Vegetable oil, for frying
Instructions
Let's start making some delicious cannoli! To begin, grab a large bowl and add 3/4 cup of all-purpose flour, 1 tablespoon of sugar, 1/2 teaspoon of salt, and 1/2 teaspoon of cinnamon. Give it all a good mix.
Now add 2 tablespoons of butter and 2 tablespoons of vegetable shortening, both cubed and chilled. Use your hands to mix it all together until it forms a crumbly texture.
Next, add 1/4 cup of cold water and mix it until it forms a dough.
Next, take the dough and roll it out until it's about 1/8 inch thick. Then, use a round cookie cutter or a glass to cut out circles of dough.
Heat some vegetable oil in a pot over medium heat. When the oil is hot, deep-fry the circles of dough until they're golden brown.
Place the fried cannoli on some paper towels to absorb any excess oil.
Now it's time to fill them! In a bowl, mix together 1/4 cup of ricotta cheese, 2 tablespoons of confectioners' sugar, 1/2 teaspoon of vanilla extract, and 2 tablespoons of mini chocolate chips.
Take a piping bag and fill it with the ricotta cheese mixture. Then, pipe the mixture into the cannoli shells.
Now you have some delicious cannoli that are ready to be served! Enjoy!
Nutrition Facts
Calories: 239
Fat: 13.6 g
Carbohydrates: 25.2 g
Protein: 4.4 g
Sodium: 85 mg
Sugar: 8.1 g
What is a cannoli and why is it so popular?
A cannoli is a delicious Italian pastry that consists of a tube-shaped shell of fried pastry dough filled with a sweet, creamy filling. This mouthwatering treat is made from a blend of ricotta, sugar, and chocolate chips or other flavorings, all of which combine to create a delectable, indulgent treat. Cannoli are beloved all over the world for their unique flavor, texture, and presentation.
The origin of the cannoli is a bit of a mystery, but it is believed to have originated in Sicily, Italy in the 9th century. Since then, the popularity of cannoli has only grown, with countless variations and flavors being created. Cannoli can be filled with sweet ricotta, cream, custard, or other flavors, and can be topped with sprinkles, nuts, or even dipped in chocolate.
What makes cannoli so popular is their versatility. No matter what type of pastry lover you are, there is sure to be a cannoli that suits your tastes. From classic ricotta to a variety of creative flavors, cannoli provide a delicious and indulgent treat. Plus, they are easy to make and require minimal ingredients, making them an ideal snack or dessert option.
In conclusion, cannoli are an incredibly popular Italian pastry that have been enjoyed for centuries. With their delicious flavor and versatile filling options, it's no surprise that cannoli remain a beloved treat all around the world.
What are some tips for making the perfect cannoli?
Making the perfect cannoli can seem like a daunting task, but with the right tips it's easier than you think! Here are some tips to get you started:
Start with the Cannoli Shells: The shells are the foundation for the perfect cannoli, so it's important to get them just right. Use a tried and true recipe and be sure to fry the shells until they are golden-brown and crispy.
Use Ricotta for the Filling: Ricotta cheese is the traditional choice for cannoli filling, and for good reason. It's light, creamy, and has a subtle sweetness that pairs perfectly with the cannoli shells.
Add Your Favorite Toppings: Once you've got the shells and filling sorted, it's time to get creative with your toppings. Chocolate chips, nuts, and dried fruit all make great additions to your cannoli.
Let the Cannoli Rest: After assembling your cannoli, let it rest in the refrigerator for at least one hour. This will help the shells soften and absorb the flavors of the filling.
Serve and Enjoy: After giving your cannoli time to rest, it's time to serve and enjoy! Cannoli are best served cold, so be sure to keep them in the refrigerator until you're ready to serve.
What is the history behind cannoli?
Cannoli have a long and delicious history that dates back centuries! First believed to have been created in Sicily in the 16th century, these tasty treats were originally made to celebrate Carnival. They were made with crunchy fried dough filled with creamy ricotta, chocolate chips, and other sweet fillings. Over the years, these desserts have become popular around the world, and many different variations have been created. Today, cannoli are enjoyed everywhere and are a delicious way to end any meal.
What are the traditional ingredients used to make a cannoli?
When thinking of traditional Italian desserts, a cannoli is sure to come to mind! This delicious treat is made up of crunchy fried pastry dough tubes filled with a creamy, sweet ricotta cheese filling. To make your own cannoli at home, you'll need the following traditional ingredients:
Ricotta cheese – this is the primary ingredient for the creamy, sweet filling. It is essential that you use ricotta cheese and not cottage cheese as the texture and flavor will not be the same.
Grated orange or lemon peel – this adds a hint of citrus to the filling and enhances the flavor.
Powdered sugar – this sweetens the filling and helps to thicken it.
Chocolate chips – for a delicious twist on the traditional cannoli, these can be added to the filling.
Cinnamon – this adds a warm, spicy flavor to the filling.
Marsala wine – a splash of this sweet Italian wine adds a unique and complex flavor to the filling.
Vanilla extract – this adds a hint of sweetness and subtle flavor to the filling.
Egg whites – these are used to create the crunchy, fried pastry shells.
Vegetable oil – for deep-frying the cannoli shells.
What are some creative ways to fill a cannoli?
When it comes to delicious Italian desserts, cannoli are one of the best. But what makes them even more special is that you can fill them with a variety of ingredients. From sweet to savory, you can get creative and fill your cannoli however you like. Here are some creative ideas to get you started!
Start with a classic ricotta filling. This classic combo of sweet ricotta cheese, sugar, and vanilla is always a winner. Add in some mini chocolate chips or chopped nuts for an extra crunch.
Try a sweet cream cheese filling. This super creamy and decadent filling is perfect for those with a sweet tooth. Mix together cream cheese, confectioners' sugar, and vanilla extract for a smooth, sweet filling.
Go savory with pesto and mozzarella. For a savory twist, try filling your cannoli with a mixture of pesto and shredded mozzarella. Top with some freshly grated Parmesan for an extra flavor boost.
Mix it up with a fruit filling. For a light and fruity option, try mixing together some mashed berries or diced fruit with a touch of sugar and a dash of cinnamon.
With these creative ideas, you can fill your cannoli with a variety of delicious flavors and textures.
What are some of the most popular cannoli recipes?
If you're looking for some delicious cannoli recipes, you're in luck! Cannoli are one of the most beloved Italian desserts and they come in a variety of flavors. From traditional ricotta and chocolate chip to unique creations like raspberry and white chocolate or lemon and pistachio, there's something for everyone. Here are some of the most popular cannoli recipes to get you started:
Traditional Ricotta Cannoli: This classic recipe is made with a classic ricotta filling and is usually topped with mini chocolate chips and a dusting of confectioners' sugar.
Tiramisu Cannoli: This twist on a traditional tiramisu combines the classic flavors of coffee and mascarpone cheese with a sweet mascarpone-based cannoli filling.
Raspberry and White Chocolate Cannoli: The sweetness of raspberry preserves pairs perfectly with white chocolate chips in this unique creation.
Nutella and Pistachio Cannoli: Nutella and pistachio come together in this decadent and unique cannoli recipe.
Lemon and Pistachio Cannoli: This light and refreshing combo of lemon and pistachio is perfect for a summertime treat.