Savory And Delicious Cabbage Soup – Perfect For A Cozy Night In!
I love making cabbage soup because it's an easy and delicious way to get a warm, hearty meal on the table. Growing up, my mom would make it for us on cold winter nights, and I've been making it ever since. It's a one-pot meal that's simple to prepare, full of flavor, and incredibly comforting. Whether you're looking for a light lunch or a hearty dinner, this cabbage soup recipe is sure to please.
Cabbage Soup Recipe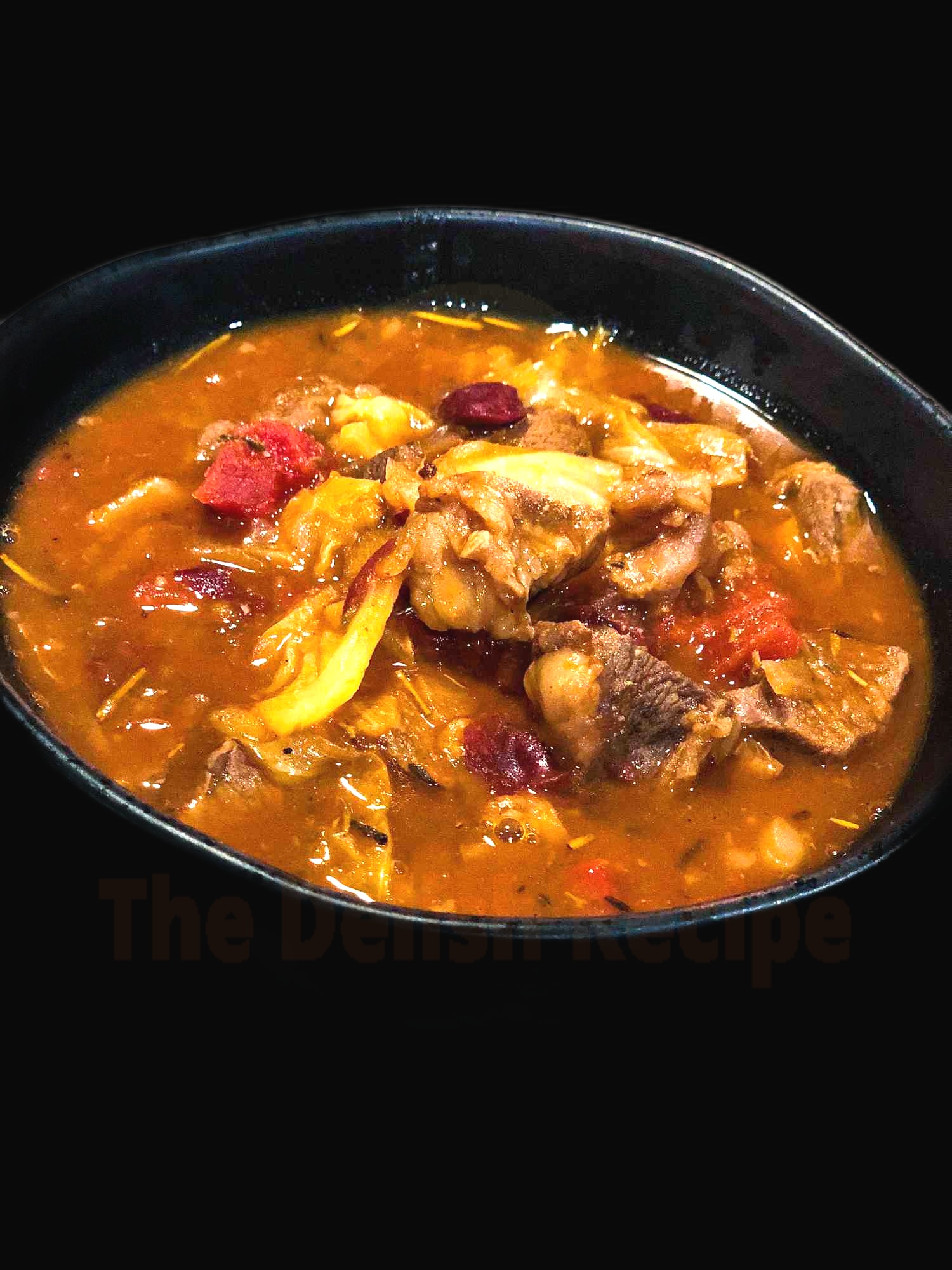 Ingredients
2 tablespoons olive oil
1 onion, diced
1 garlic clove, minced
1 teaspoon ground cumin
1/2 teaspoon dried oregano
1/2 teaspoon smoked paprika
3 cups diced cabbage
2 cups vegetable broth
1 14-ounce can diced tomatoes
1/2 teaspoon salt
1/4 teaspoon freshly ground black pepper
1 bay leaf
1/4 cup chopped fresh parsley
Instructions
Let's get started making this delicious cabbage soup!
Heat 2 tablespoons of olive oil in a large pot over medium heat.
Add the diced onion and minced garlic and stir until the onion is softened and fragrant, about 4 minutes.
Then add the cumin, oregano, and smoked paprika and stir until the spices are fragrant, about 1 minute.
Add the diced cabbage, vegetable broth, diced tomatoes, salt, pepper, and bay leaf. Increase the heat to high and bring the soup to a boil.
Reduce the heat to low and simmer for 25 minutes, stirring occasionally.
Once the soup is done, remove from heat and stir in the chopped parsley.
Let the soup stand for 5 minutes before serving.
Enjoy your cabbage soup!
Nutrition Facts
Calories: 343
Fat: 9.7g
Carbohydrates: 51.2g
Protein: 10.3g
Sodium: 887mg
Fiber: 15.6g
What makes cabbage soup such a great choice for a healthy meal?
Cabbage soup is an incredibly healthy and nutritious meal that is packed with flavor and easy to make. Not only is it low in calories and carbs but it's also high in fiber and protein, making it a great choice for anyone looking to improve their diet. Cabbage is also full of vitamins and minerals, including Vitamin A, C, and K, and calcium, making it an excellent way to get the essential nutrients you need on a daily basis. Additionally, the fiber in cabbage helps to keep you full for longer and can help reduce cravings throughout the day.
Another great benefit of cabbage soup is that it can be made with a variety of ingredients, making it easy to customize to your own tastes. From adding different vegetables and proteins to changing up the spices, there are endless possibilities. This makes it a great option for anyone who enjoys experimenting in the kitchen or trying new flavors. The soup can also be made in bulk and stored for later, making it an easy and convenient meal for busy days.
Overall, cabbage soup is a fantastic choice for a healthy meal. It's full of essential vitamins and minerals, low in calories, and easy to customize. Plus, it's sure to keep you full and satisfied for hours.
What are some tasty ways to spice up cabbage soup?
Cabbage soup is an incredibly versatile dish that can be spiced up in a variety of tasty ways! There are many options for giving your cabbage soup an extra kick – from adding a spicy chili pepper to stirring in a delicious selection of herbs and spices. Here are some of our favorite ways to make cabbage soup even more delicious:
Add a kick of heat. Try stirring in a finely diced chili pepper or two, adding a few dashes of hot sauce, or sprinkling in some red pepper flakes.
Stir in some herbs and spices. A teaspoon of ground cumin, a few pinches of dried oregano, or some freshly chopped parsley can turn a basic cabbage soup into something special.
Try different types of vegetables. Carrots, celery, and other vegetables can be added to cabbage soup for an extra boost of flavor.
Add a splash of acidity. Squeeze a little lemon or lime juice into your soup for a bright, tart flavor.
Spice up the broth. Use chicken or beef broth instead of vegetable broth for an extra flavor boost.
Top it off. Top off your soup with a sprinkle of freshly grated Parmesan cheese, crumbled bacon, or crispy fried onions.
By combining some of these delicious additions, you can create a delicious and flavorful cabbage soup that will have your family and friends coming back for more.
What are the benefits of eating cabbage soup?
Eating cabbage soup is incredibly beneficial for both your physical and mental health! Here are some of the ways it can help you:
Boosts Immunity: Cabbage soup is full of vitamins and minerals that can help boost your immune system. It also contains antioxidants that help fight off bacteria and viruses.
Aids Digestion: Cabbage soup is a great way to get fiber into your diet. The fiber helps keep your digestive system regular, making it easier to absorb nutrients from the food you eat.
High in Nutrients: Cabbage soup is packed with vitamins and minerals such as Vitamin A, Vitamin C, Vitamin K, and potassium. All of these nutrients can help keep your body healthy and strong.
Low in Calories: Cabbage soup is a great way to get a lot of nutrition without the calories. It's perfect for those looking to lose weight or maintain their current weight.
Improves Mental Health: Eating cabbage soup can help improve your mood. The Vitamin C and antioxidants can help reduce stress and anxiety, while the fiber can help keep your blood sugar stable, making it easier to focus and stay alert.
Tastes Delicious: Don't forget that cabbage soup is delicious! You can enjoy it hot or cold, and there are many ways to make it. Try adding different herbs and spices to give it a unique flavor.
How does cabbage soup compare to other soups?
Cabbage soup is a truly unique and delicious soup that stands out compared to other soups! Here are some reasons why:
It's incredibly versatile – you can add whatever vegetables, meats, or spices you like to make it your own.
It's healthy and nutrient-dense – packed with vitamins and minerals.
It's flavorful and hearty – perfect for cold winter days.
It's inexpensive – you can make a large batch for a fraction of the price of other soups.
What are some tips for making cabbage soup at home?
Make sure you have all the ingredients! Cabbage soup is surprisingly easy to make, but you'll need to make sure you have everything you need before you get started. The basics are: cabbage (of course!), onions, garlic, carrots, celery, stock, and some herbs and spices.
Take the time to chop your veggies properly. This will ensure that your soup has a delicious flavor and the right texture. Start with the onions and garlic, then move on to the carrots and celery, and end with the cabbage.
Don't be afraid to experiment. Cabbage soup is a great canvas for experimenting with flavors. Try adding a pinch of nutmeg or some chili powder for a spicy kick, or some smoked paprika for a hint of smokiness.
Start with a low and slow simmer. Cabbage soup should be simmered for at least 20 minutes, but you can simmer it for up to an hour for a more intense flavor. Make sure you check the soup every 10 minutes to ensure it's not boiling too quickly.
Add a splash of acidity. A splash of lemon or lime juice or a splash of white wine can add a great pop of flavor to your soup.
Don't forget the finishing touches. When your soup is finished, sprinkle some fresh herbs or grated cheese on top for a delicious finish.
Making cabbage soup at home doesn't have to be daunting – just make sure you have all the right ingredients, take your time chopping your veggies, and don't be afraid to experiment with flavors.