Crispy And Fudgy Chocolate Brownie Crisps
If you love the texture of a crunchy and delicious snack, then you're going to love my Brownie Crisps recipe! I've been making this recipe for years, and it always hits the spot. It's super easy to make and a great way to use up leftover brownies or to make a simple, tasty snack. Plus, it's a great way to get some chocolate in your life! So, grab your ingredients and let's get started!
Brownie Crisps Recipe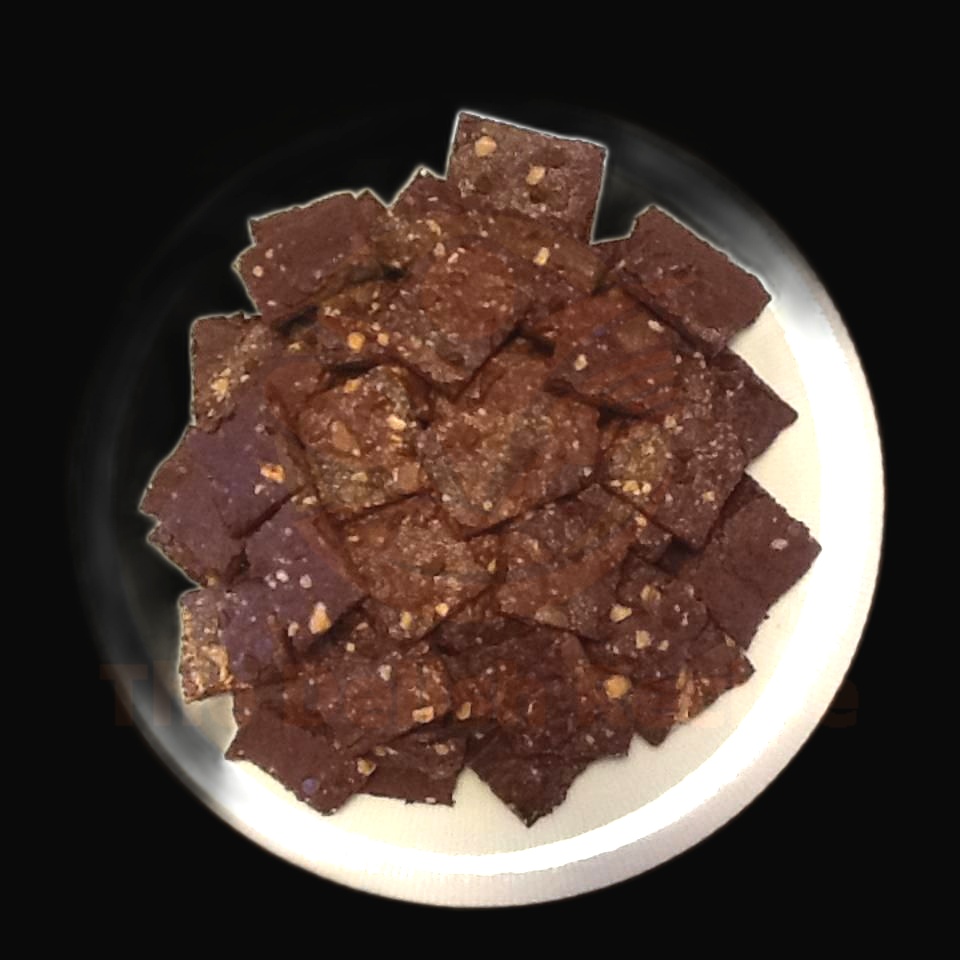 Ingredients
1 cup all-purpose flour
1 teaspoon baking powder
½ teaspoon salt
8 tablespoons (1 stick) unsalted butter, melted
1 cup granulated sugar
2 large eggs
1 teaspoon pure vanilla extract
1 cup semi-sweet chocolate chips
6 ounces semi-sweet chocolate, chopped
Instructions
Preheat your oven to 350°F.
In a medium bowl, whisk together the flour, baking powder and salt.
In a large bowl, mix together the melted butter and sugar until combined.
Add the eggs and vanilla extract and mix until fully combined.
Gradually add the dry ingredients to the wet ingredients and mix until just combined.
Fold in the chocolate chips and chopped chocolate until well blended.
Line a baking sheet with parchment paper.
Using a tablespoon, drop dough onto the baking sheet and flatten each cookie with your fingertips.
Bake for 10 minutes or until the edges are golden brown.
Let cool for 5 minutes before transferring to a cooling rack.
Enjoy your delicious brownie crisps!
Nutrition Facts
Calories: 240, Fat: 12g, Saturated Fat: 7g, Trans Fat: 0g, Cholesterol: 55mg, Sodium: 110mg, Carbohydrates: 29g, Fiber: 1g, Sugar: 17g, Protein: 3g
What are brownie crisps and why are they a delicious snack?
Brownie Crisps are an incredibly delicious snack that combine the crunch of a crisp with the rich, decadent flavor of a brownie. They are flat and crunchy wafers made from brownie batter, baked until crisp and golden. These heavenly treats are perfect for a midday snack, dessert or just a tasty treat to snack on throughout the day.
Brownie Crisps are packed with rich cocoa flavor and have a satisfying crunchy texture. They are made with natural ingredients like cocoa powder, butter and eggs, so you can feel good about indulging in a few. Plus, there's no added sugar, so they're a healthier alternative to traditional brownies.
Brownie Crisps are incredibly versatile and can be used in a variety of ways. They make a perfect topping for ice cream, yogurt or oatmeal. You can also use them as a crunchy topping for a salad or as a crunchy layer in a cheesecake. They can also be used for baking, added to trail mix or enjoyed as a crunchy snack on their own.
Whether you're looking for a sweet snack or a crunchy topping, Brownie Crisps are a delicious choice. With their rich cocoa flavor and crunchy texture, they're sure to satisfy any craving. Plus, they're a healthier alternative to traditional brownies and can be used in a variety of ways. Indulge in a few Brownie Crisps and enjoy a delicious treat.
How easy are brownie crisps to make?
Making your own brownie crisps is a piece of cake! Not only are these crunchy and delicious morsels totally delicious, but they are also super easy to make. All you need are a few simple ingredients, a baking sheet, and a little time. With a few simple steps, you'll be munching on your own homemade brownie crisps in no time.
What are the health benefits of eating brownie crisps?
Eating brownie crisps is a great way to enjoy a sweet snack without overindulging and compromising your health. Brownie crisps provide a variety of health benefits, including:
More Fiber: Brownie crisps are made with whole wheat flour, which contains more fiber than traditional white flour. Fiber helps to improve digestion and keep you feeling fuller for longer.
Reduced Sugar: Brownie crisps contain less sugar than traditional brownies, making them a healthier alternative.
Lower Fat: Brownie crisps are typically lower in fat than traditional brownies, making them a better choice for those trying to watch their calorie intake.
Vitamins and Minerals: Brownie crisps contain vitamins and minerals like calcium, iron, and B vitamins, which are essential for a healthy diet.
Antioxidants: Brownie crisps are high in antioxidants, which help to protect your body from free radicals and reduce inflammation.
Heart Health: Eating brownie crisps can help to reduce the risk of heart disease, as they are low in saturated fat and cholesterol.
Overall, brownie crisps are a great way to enjoy a sweet snack without sacrificing your health.
How do you store brownie crisps?
Storing Brownie Crisps has never been easier! Here are a few tips to make sure your crisps stay fresh and delicious:
Keep them in an airtight container: This will ensure that your Brownie Crisps stay as fresh and crunchy as possible.
Store in a cool, dry place: Brownie Crisps can easily become soft and stale if kept in a humid or warm environment.
Refrigerate for longer shelf life: If you want to keep your crisp for more than a few days, pop them in the refrigerator. This will help them stay crunchy and flavorful for much longer.
Enjoy immediately: Brownie Crisps are best served right away. If you don't plan on eating them right away, make sure to store them properly.
What are some of the variations of brownie crisps?
Brownie crisps are a delicious treat that can be enjoyed in a variety of ways! From dark chocolate to mint and even cinnamon, there are so many delicious variations of brownie crisps that it can be hard to choose which one to try first. Here are some of the most popular variations of brownie crisps on the market today:
Dark Chocolate: Dark chocolate brownie crisps are a classic favorite. These crunchy little bites are perfect for satisfying a sweet tooth and they have a rich, decadent flavor.
Mint: For those who love a hint of minty freshness in their desserts, mint brownie crisps are an excellent choice. These crisp, light bites are perfect for cooling off on a hot day.
Cinnamon: Cinnamon brownie crisps are perfect for those who love a little spice in their sweets. These crunchy treats have a slightly sweet and spicy flavor that will make your mouth water.
White Chocolate: White chocolate brownie crisps are a unique twist on the classic flavor. These light and airy treats have a creamy, sweet flavor that is perfect for those with a sweet tooth.
No matter what type of brownie crisp you choose, you are sure to enjoy the delicious taste and crunchy texture.
What ingredients do you need to make brownie crisps?
If you've been craving something sweet and crunchy, brownie crisps are the perfect treat! Making them is easy, and all you need is a few simple ingredients. You'll need all-purpose flour, baking powder, unsweetened cocoa powder, granulated sugar, light brown sugar, butter, eggs, and a bit of salt for flavor.
To make these delicious brownie crisps, start by preheating your oven to 350°F and greasing a baking sheet. In a medium-sized bowl, whisk together the flour, baking powder, and cocoa powder and set aside. In a separate bowl, cream together the butter, granulated sugar and light brown sugar. Beat in the eggs, one at a time. Once combined, stir in the dry ingredients until a thick and slightly sticky dough forms.
Grab a tablespoon-sized portion of dough and roll it in your hands to form a ball. Place the ball on the prepared baking sheet and use your fingers to flatten it into a disc. Bake the discs for 10 minutes and allow them to cool before enjoying.
These delicious brownie crisps are the perfect sweet and crunchy treat to satisfy your cravings.
What are some creative ideas for using brownie crisps?
Brownie crisps are so versatile! There are so many fun and creative ideas for how to use them. Here are a few of our favorite ways to enjoy brownie crisps:
Make a tasty snack mix. Add some of your favorite sweet and salty ingredients, like chocolate chips, marshmallows, and peanuts, to a bowl with brownie crisps for a fun mix.
Create your own ice cream sandwich. Place a scoop of your favorite ice cream between two brownie crisps for a delicious and unique treat.
Create a brownie cake. Layer brownie crisps with frosting and top with your favorite toppings for a simple and delicious cake.
Top a bowl of ice cream. Sprinkle brownie crisps on top of a scoop of ice cream for a crunchy and sweet topping.
Make a brownie crisp sundae. Layer brownie crisps with hot fudge, ice cream, and whipped cream for a delicious and decadent sundae.
These are just a few of the many creative ways to use brownie crisps! Get creative and have fun with them.