Delicious Blueberry-Thyme Compote Recipe
I can still recall the first time I made blueberry-thyme compote. The sweet and tart flavor of the blueberries combined with the fragrant aroma of the thyme was an unforgettable experience. I felt like I had created something magical and I knew that this delicious compote would be a hit with everyone who tasted it. With just a few simple ingredients and minimal time, I was able to make a unique, flavorful compote that was perfect for topping ice cream, waffles, and pancakes. Now, I'm excited to share my recipe with you so that you can create this delicious treat in your own kitchen.
Blueberry-Thyme Compote Recipe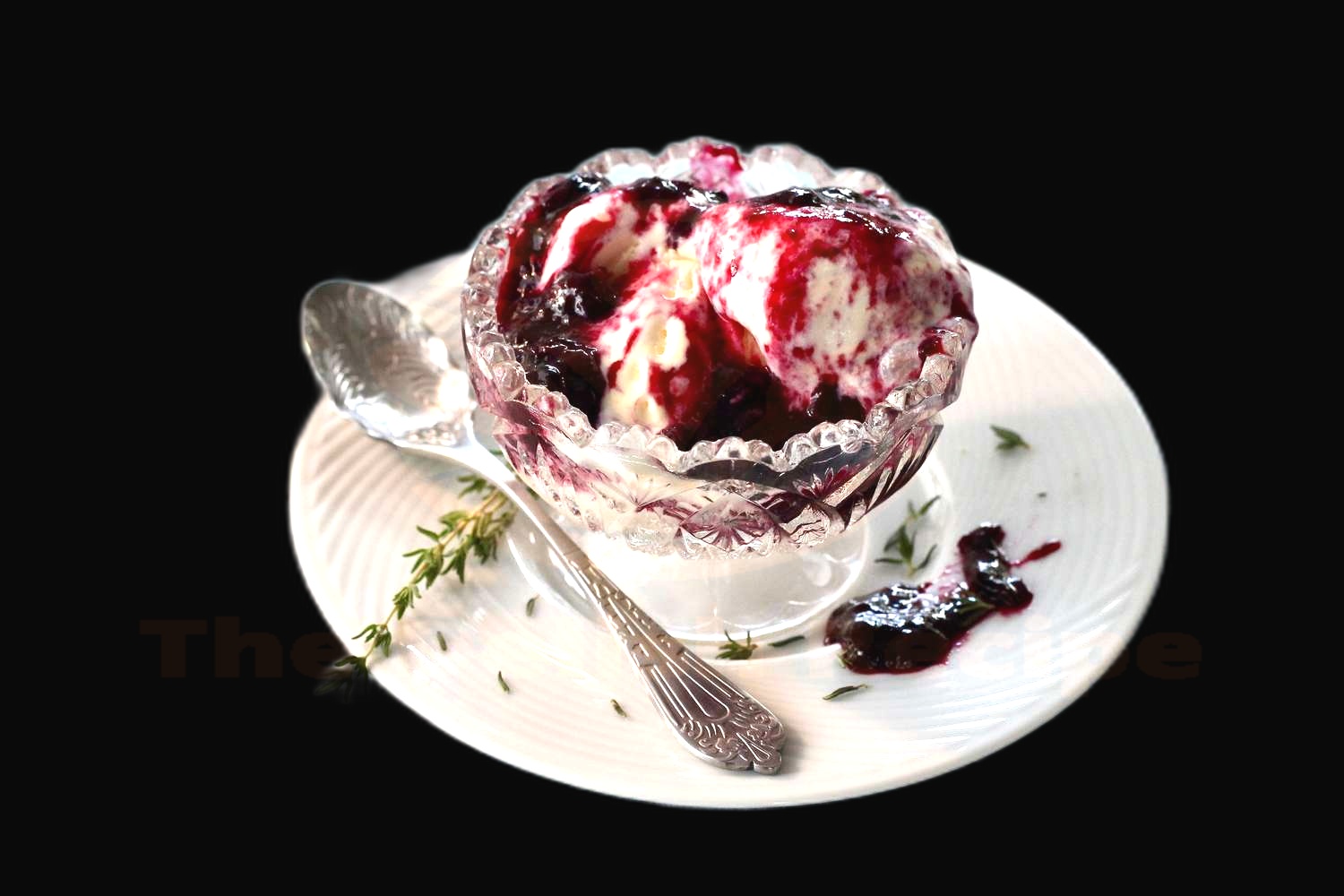 Ingredients
2 cups fresh blueberries
1/3 cup granulated sugar
2 tablespoons fresh thyme, chopped
2 tablespoons fresh lemon juice
2 tablespoons water
1 tablespoon cornstarch
1/4 teaspoon ground cinnamon
Pinch of salt
Instructions
Let's get started making a delicious Blueberry-Thyme Compote! Gather 2 cups of fresh blueberries, 1/3 cup of granulated sugar, 2 tablespoons of chopped fresh thyme, 2 tablespoons of fresh lemon juice, 2 tablespoons of water, 1 tablespoon of cornstarch, 1/4 teaspoon of ground cinnamon, and a pinch of salt.
To begin, combine the blueberries, sugar, thyme, lemon juice, water, cornstarch, cinnamon, and salt in a medium-sized saucepan. Stir together until everything is evenly mixed.
Place the saucepan over medium-high heat and bring to a boil, stirring occasionally. Once boiling, reduce heat to low and simmer for 20 minutes.
After 20 minutes, the compote should be thick and slightly glossy. Remove from heat and let cool for 10 minutes. Enjoy the compote while warm or chill in the refrigerator before serving.
Nutrition Facts
Calories: 68
Fat: 0g
Carbohydrates: 17g
Protein: 0g
Sugar: 13g
Fiber: 1g
Cholesterol: 0mg
Sodium: 11mg
How can a blueberry-thyme compote be used to elevate meals and desserts?
A blueberry-thyme compote is an easy-to-make condiment that can be used to elevate any meal or dessert. The combination of sweet blueberries with the earthy and herby flavor of thyme creates an interesting and complex flavor profile that works perfectly with a variety of dishes. Whether you're looking to add a touch of sweetness to a savory meal or make a delicious topping for a cake or ice cream, blueberry-thyme compote is the perfect choice.
The great thing about compotes is that they are incredibly versatile and can be used in a variety of ways. To use blueberry-thyme compote in savory dishes, try adding it to grilled meats, roasted vegetables, fish, or eggs. It can also be used as a topping for soups, salads, and sandwiches. For a sweet treat, use blueberry-thyme compote as a topping for cakes, ice cream, yogurt, or French toast. It can even be used as a filling for pies and tarts.
For an easy-to-make blueberry-thyme compote, first combine one tablespoon of butter, one cup of fresh blueberries, two tablespoons of honey, one tablespoon of lemon juice, and one teaspoon of thyme into a small saucepan. Simmer the mixture over medium-low heat for about 10 minutes, stirring occasionally. Once the compote has thickened, remove it from the heat and let it cool. Store the compote in an airtight container in the refrigerator and it will last for up to one week.
With its unique flavor profile, blueberry-thyme compote is the perfect way to elevate any meal or dessert. Whether you're serving savory dishes or sweet treats, the compote will add a delicious touch of sweetness that your guests are sure to love.
What are some delicious recipes that incorporate blueberry-thyme compote?
If you're looking for delicious recipes that incorporate blueberry-thyme compote, you're in luck! This versatile compote can be used in a variety of dishes to add a touch of sweetness and a hint of savory thyme. From pancakes and oatmeal to ice cream and yogurt, there are so many ways to enjoy the unique flavor of blueberry-thyme compote. Here are a few recipes to get you started!
Blueberry-Thyme Compote Pancakes: Start your day off right with a stack of fluffy pancakes that are filled with sweet blueberry-thyme compote. To make them, mix together self-rising flour, baking powder, sugar, and a pinch of salt in a bowl. In a separate bowl, whisk together milk, eggs, and melted butter. Add the wet ingredients to the dry ingredients and stir until combined. Heat a non-stick skillet over medium-high heat and spoon batter into the pan in desired size. Add a spoonful of blueberry-thyme compote to each pancake and cook until the edges are golden brown.
Blueberry-Thyme Compote Oatmeal: This is a delicious and nutritious breakfast that is packed with flavor. Start by bringing 1 cup of water and a pinch of salt to a boil in a small saucepan. Add 1 cup of rolled oats and let simmer for 5 minutes. Remove the pan from the heat and add 1/4 cup of blueberry-thyme compote, a tablespoon of honey, and a splash of milk. Stir until combined and serve.
Blueberry-Thyme Compote Ice Cream: This creamy and refreshing treat is perfect for summer days. Start by whisking together a can of sweetened condensed milk, 1/2 cup of blueberry-thyme compote, 1/2 teaspoon of vanilla extract, and a pinch of salt in a bowl. Pour the mixture into a shallow baking dish and freeze for at least 4 hours. Scoop the mixture into a food processor and blend until smooth. Serve in a bowl or cone and enjoy!
Blueberry-Thyme Compote Yogurt: This creamy and flavorful yogurt is a great snack or breakfast option. Start by combining 2 cups of plain Greek yogurt, 1 tablespoon of honey, and 1/4 cup of blueberry-thyme compote in a bowl. Stir until combined and spoon into individual bowls or mason jars. Top with extra compote and enjoy!
These recipes are just a few of the many delicious ways to incorporate blueberry-thyme compote into your meals.
What are the amazing benefits of blueberries and thyme for health and wellness?
Blueberries and thyme have a wide range of amazing benefits for health and wellness.
Blueberries are an excellent source of antioxidants which help protect the body from oxidative damage and diseases such as cancer. They are also high in fiber, vitamin C, and manganese, which can help support healthy digestion and boost immunity.
Thyme is a powerful antioxidant that can help reduce inflammation, fight infections, and protect against oxidative damage. It is also a great source of vitamins A, C, and E, as well as iron, magnesium, and zinc.
Together, the two ingredients create a powerhouse of nutrition that can help improve overall health and wellbeing. Blueberries and thyme can help reduce fatigue, improve digestion, boost immunity, and protect against illness and disease.
The combination of blueberries and thyme can also help promote healthy skin, hair, and nails, as well as reduce stress and balance hormones.
Finally, the pairing of blueberries and thyme can help improve mood, memory, and cognitive function. This can make it a great choice for those looking to improve their overall mental and physical health.
What are some clever tips and tricks for making a perfect blueberry-thyme compote every time?
Start by gathering your ingredients: 2 cups of blueberries, ¼ cup of water, 2 tablespoons of honey, 1 teaspoon of fresh thyme leaves, and a pinch of salt.
Heat the blueberries and water in a medium saucepan over medium-high heat.
Once bubbling, reduce the heat to low and simmer, stirring occasionally, until the berries have softened and the liquid has thickened.
Remove the pan from the heat and stir in the honey and thyme.
Serve the compote warm or cold.
To make the perfect compote, use ripe blueberries if possible. If you're using frozen berries, thaw them in the refrigerator overnight before adding them to the saucepan.
To add extra flavor, try adding a teaspoon of freshly squeezed lemon juice and a tablespoon of brown sugar at the end of the cooking process.
For a smooth compote, you can add a tablespoon of cornstarch dissolved in 2 tablespoons of cold water during the cooking process.
Finally, adjust the sweetness or tartness of the compote by adding more honey or lemon juice according to your taste.
What are some other ways to enjoy the flavor of blueberry-thyme compote?
There are so many delicious ways to enjoy the unique sweet and savory flavor of blueberry-thyme compote! Whether you want to use it as a topping for desserts, spread it on toast for breakfast, or even as a condiment for dinner, the possibilities are endless. Here are some creative and tasty ideas for how to use this versatile fruity-herbal compote.
Top off your favorite ice cream or yogurt with a dollop of blueberry-thyme compote for a sweet and zesty treat.
Spread it over a piece of french toast or pancakes for a flavorful and special breakfast.
Use it as a glaze or marinade for grilled or roasted chicken or pork chops.
Drizzle it over roasted vegetables or a salad for a bright and flavorful kick.
Mix it into oatmeal or chia pudding for a healthy and tasty snack.
Serve it with cheese and crackers for a tasty appetizer.
Serve it with pound cake or other sweet desserts for a unique twist.
The possibilities are truly endless when it comes to blueberry-thyme compote! With its sweet and savory flavor, it's sure to add a unique and delicious touch to any dish.