Easy Blueberry Crumble Recipe
I absolutely love blueberry crumble! This recipe has been a part of my family for generations, and I'm so excited to share it with you. Every time I make it, the sweet smell of blueberries fills my kitchen and takes me back to my childhood. The blueberry crumble is the perfect combination of tart and sweet, and the crumble topping adds a delicious crunch. So, without further ado, let's get started on making this beloved family recipe!
Blueberry Crumble Recipe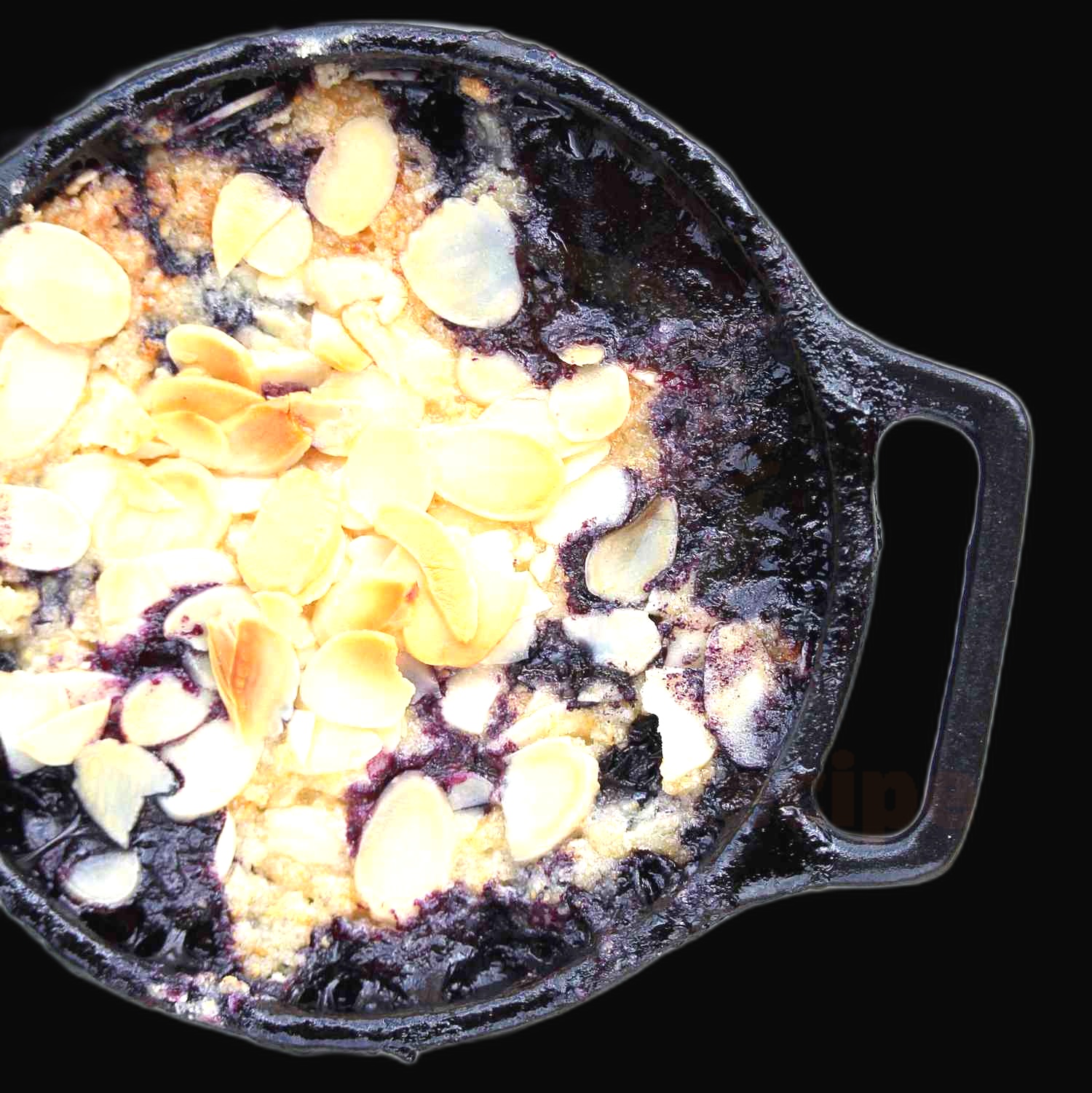 Ingredients
• 3 cups fresh blueberries
• ½ cup all-purpose flour
• ½ cup light brown sugar
• 6 tablespoons unsalted butter, cut into small cubes
• ½ teaspoon ground cinnamon
• ¼ teaspoon ground nutmeg
• ⅛ teaspoon salt
• 2 tablespoons granulated sugar
Instructions
Preheat your oven to 375°F.
In a medium bowl, mix together the fresh blueberries, all-purpose flour, light brown sugar, cinnamon, nutmeg and salt until everything is well blended.
Grease a medium-sized baking dish with butter.
Pour the blueberry mixture into the dish and spread it out evenly.
In a separate bowl, mix together the butter cubes, granulated sugar, and cinnamon until everything is well blended.
Sprinkle the butter-sugar mixture over the blueberry mixture.
Place the baking dish in the preheated oven and bake for 45 minutes or until the top is golden brown and the blueberries are bubbly.
After 45 minutes, remove the dish from the oven and let it cool for 5 minutes before serving.
Serve your delicious Blueberry Crumble warm and enjoy!
Nutrition Facts
Calories: 250
Total Fat: 8g
Saturated Fat: 5g
Trans Fat: 0g
Cholesterol: 20mg
Sodium: 130mg
Carbohydrates: 42g
Fiber: 2g
Sugar: 25g
Protein: 2g
What makes blueberry crumble so delicious?
Blueberry crumble is one of life's greatest treats. The juicy sweetness of the blueberries combined with the crunch of the crumble topping is an irresistible combination. The secret to the deliciousness of blueberry crumble lies in the contrast between the two textures. The juicy and soft blueberries burst with flavor when they meet the crunchy and nutty topping. Plus, the addition of sugar and butter to the crumble mix creates an irresistible combination of sweet and salty. Finally, the topping is slightly browned and bubbly, resulting in a heavenly combination of chewy and crunchy. All of these elements come together to create a truly irresistible dish.
What are the benefits of eating blueberry crumble?
Eating blueberry crumble offers a delicious and nutritious way to get your daily dose of vitamins, minerals, and antioxidants!
Blueberries are packed with essential vitamins and minerals like vitamin C, manganese, dietary fiber, and vitamin K.
The antioxidants in blueberries can help reduce the risk of cardiovascular disease, cancer, and other chronic diseases.
Blueberries are known to improve brain function, memory, and concentration.
Eating blueberry crumble can help reduce bad cholesterol levels, promoting heart health.
Blueberry crumble is an easy and delicious way to enjoy a healthy snack or dessert.
Blueberries can help boost your immune system and provide essential vitamins and minerals for good health.
Blueberry crumble is a great way to satisfy your sweet tooth without all the added sugar.
Blueberries are a great source of dietary fiber, which can help keep you full and satisfied.
Eating blueberry crumble can be a great way to get your daily dose of fruit and enjoy a delicious treat at the same time.
What special tips can home cooks use to make the perfect blueberry crumble?
Start with the best ingredients: choose fresh, ripe blueberries, and quality butter and flour for the crumble topping.
Make sure your oven is pre-heated: preheat the oven to 375 degrees Fahrenheit before you start baking.
Don't overmix the topping: combine the butter, sugar and flour in a bowl and mix until it resembles a crumbly texture.
Add the blueberries: pour the blueberries into an oven-safe baking dish, and then evenly distribute the crumble topping over the top.
Bake until golden brown: bake the crumble for 25-30 minutes or until the topping is golden brown.
Let it cool: let the crumble cool before serving. This will help the topping to set and make it easier to cut into slices.
What are the best ways to prepare blueberry crumble?
Preparing a delicious blueberry crumble is easy and fun! Here are some of the best ways to prepare this classic dessert:
Get the right ingredients: You'll need fresh or frozen blueberries, sugar, butter, flour, salt, and cinnamon. You can also add a few tablespoons of lemon juice to really bring out the flavor of the blueberries.
Preheat the oven: Before you start making your crumble, preheat the oven to 350 degrees Fahrenheit. This will ensure that the crumble is cooked to perfection.
Make the topping: Start by combining the butter, flour, salt, and cinnamon in a medium-sized bowl. Use a pastry blender or your hands to mix the ingredients until they form a crumbly mixture.
Prepare the blueberries: In a separate bowl, mix the blueberries and sugar. If you're using frozen blueberries, you'll want to let them sit for a few minutes to let them thaw.
Assemble and bake: Grease a baking dish, and spread the blueberry mixture evenly into it. Sprinkle the crumble topping over the blueberries, and bake for 30-35 minutes. Let it cool before serving.
These steps will help you make the perfect blueberry crumble every time.
What are the differences between a blueberry crumble and a blueberry pie?
When it comes to blueberry desserts, it can be hard to choose between a blueberry crumble and a blueberry pie. While both are deliciously sweet and tart treats, there are some key differences that make them unique.
A blueberry crumble is a type of baked dessert made with a combination of fresh blueberries, butter, sugar, and flour. The topping usually consists of oats, cinnamon, and more butter. The combination of the sweet blueberry filling and the crunchy topping makes it a perfect balance of flavors.
A blueberry pie is a classic favorite, made with a combination of fresh blueberries and sugar mixed into a thickened mixture. The crust can be either a traditional pastry crust or a crumb crust. The main difference between a blueberry crumble and a blueberry pie is that the crumble has a crunchy topping and the pie has a pastry or crumb crust.
The best way to enjoy both desserts is to bake up a batch of both! The best part about having a crumble and a pie is that you can mix and match the flavors, such as adding some nutmeg or lemon zest to the topping of the crumble or adding a crumb crust to the pie.
No matter which blueberry dessert you choose, you're sure to be delighted with its sweet and tart flavors. Whether you're a fan of the crunchy crumble topping or the classic pastry crust, these two desserts are sure to satisfy your sweet tooth.