Delicious Blueberry Cheesecake Cookies – Easy To Make!
I have a sweet tooth and I'm always looking for new dessert recipes to satisfy my cravings. These Blueberry Cheesecake Cookies have become one of my go-to treats, and I'm so excited to share the recipe with you! They're moist and chewy, with the perfect balance of tart and sweet blueberries, creamy cheesecake, and crunchy cookies. I guarantee that you won't be able to eat just one!
Blueberry Cheesecake Cookies Recipe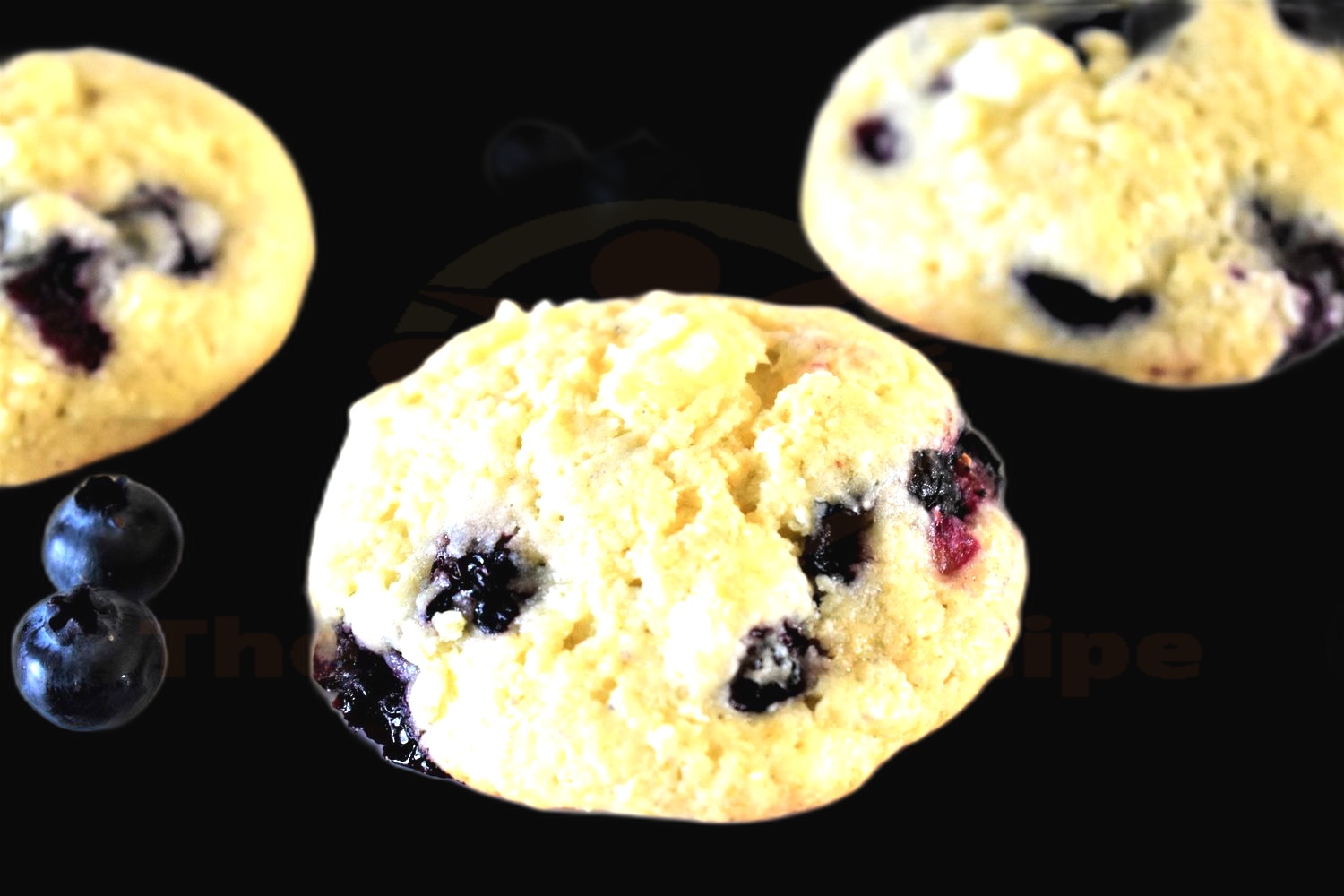 Ingredients
1 cup all-purpose flour
1 teaspoon baking powder
½ teaspoon salt
½ cup (1 stick) unsalted butter, softened
¾ cup granulated sugar
1 large egg
1 teaspoon vanilla extract
2 ounces cream cheese, softened
½ cup fresh or frozen blueberries
Instructions
Preheat your oven to 350°F.
In a medium bowl, whisk together the flour, baking powder, and salt.
In a separate larger bowl, cream together the butter and sugar until light and fluffy.
Beat in the egg and vanilla extract until well combined.
Add the flour mixture to the butter mixture and mix until just combined.
Fold in the cream cheese and blueberries until evenly distributed.
Drop tablespoonfuls of the batter onto a parchment-lined baking sheet, leaving about 2 inches between each cookie.
Bake for 10-12 minutes, or until the edges of the cookies are lightly golden.
Let the cookies cool on the baking sheet for 10 minutes before transferring them to a wire rack.
Enjoy your delicious homemade blueberry cheesecake cookies!
Nutrition Facts
Calories: 300
Fat: 18g
Sodium: 200mg
Carbohydrates: 27g
Sugar: 15g
Protein: 3g
What's the best thing about blueberry cheesecake cookies?
The best thing about blueberry cheesecake cookies is that they're the perfect combination of two classic desserts! The sweet and tart flavor of blueberries pairs so nicely with the creamy and indulgent flavor of cheesecake. Plus, these cookies are not only delicious, but they're also incredibly easy to make. With just a few simple ingredients, you can whip up a batch of these flavorful treats in no time.
What are the main ingredients you need to make blueberry cheesecake cookies?
Making blueberry cheesecake cookies is a delicious and easy way to enjoy the flavors of blueberry cheesecake in a convenient cookie form! To get these tasty treats in your kitchen, you're going to need a few key ingredients. Here's what you'll need to make blueberry cheesecake cookies:
Cream Cheese: This is the main ingredient that gives the cookies that delicious cheesecake flavor. Make sure you use full-fat cream cheese for the best flavor.
Blueberries: Obviously, you'll need some blueberries to get that blueberry cheesecake flavor! You can use either fresh or frozen blueberries.
Granulated Sugar: You'll need some sugar for sweetness, but make sure not to add too much or your cookies will be too sweet.
All-Purpose Flour: This is what will give your cookies structure and texture. Make sure you use a good-quality all-purpose flour for the best results.
Vanilla Extract: This will add some extra flavor and sweetness.
Salt: A pinch of salt will help bring out all the flavors in the cookies.
Unsalted Butter: This is what will give your cookies that delicious buttery flavor.
What tips and tricks can you use to make the perfect batch of blueberry cheesecake cookies?
Start by preheating your oven to 350°F (175°C) and lining a baking sheet with parchment paper.
To make the cookie dough, cream together butter, sugar, and vanilla extract in a bowl until light and fluffy.
Add in the egg and mix until combined.
In a separate bowl, mix together the dry ingredients – flour, baking powder, baking soda, and salt.
Gradually add the dry ingredients to the wet ingredients, mixing after each addition.
Next, add in blueberry jam and mix until combined.
Scoop the dough in 1-inch (2.5 cm) balls onto the prepared baking sheet.
Bake for 10-12 minutes, or until the edges are lightly browned.
To make the cheesecake topping, mix together cream cheese, sugar, egg, and vanilla extract until smooth.
Spread the cheesecake topping onto the cooled cookies.
Sprinkle blueberries onto the cheesecake topping and bake for an additional 10 minutes.
Let the cookies cool to room temperature before serving.
And there you have it! Follow these tips and tricks to make the perfect batch of blueberry cheesecake cookies.
How do blueberry cheesecake cookies stand out from other cookie recipes?
Blueberry cheesecake cookies stand out from other cookie recipes due to their unique combination of sweet and tart flavors. From the juicy blueberry center to the creamy cheesecake swirls, these cookies are a true delight! Here are some of the ways blueberry cheesecake cookies set themselves apart:
Sweet and tart flavor: The combination of blueberries and cheesecake in these cookies provides a unique sweet and tart flavor. The juicy blueberries bring a delightful tartness to the cookie, while the cheesecake swirls provide a rich and creamy sweetness.
Varied textures: The variety of textures in blueberry cheesecake cookies adds to the overall experience. The soft and chewy cookie base, the juicy blueberry center, and the creamy cheesecake swirls each provide a unique and enjoyable texture.
Beautiful presentation: Not only do blueberry cheesecake cookies taste amazing, but they also look gorgeous! The bright blue of the blueberry center and the swirled cream cheese topping make for a beautiful presentation.
What are some common mistakes to avoid when baking blueberry cheesecake cookies?
Baking delicious blueberry cheesecake cookies can be a fun and rewarding experience, but there are some common mistakes you should avoid to ensure your cookies come out perfectly every time. Here are a few of the most common mistakes and how to avoid them:
Don't overmix the dough. Overmixing the dough will make your cookies tough and can also cause them to spread too much as they bake. When you're mixing the dough, be sure to mix it until just combined and no more.
Don't underbake your cookies. Underbaked cookies will be too soft and won't have that perfect crunch that everyone loves. You want to bake the cookies until the edges are lightly golden and the centers are just set.
Don't use too much blueberry. Too much blueberry will make your cookies soggy and can also affect the flavor of the cookie. Use just enough to give your cookies a hint of blueberry flavor without overpowering them.
Don't use old or expired ingredients. Using old or expired ingredients can lead to an off-taste, an uneven texture, and even cookie failure. Be sure to always use fresh ingredients for the best results.
How can you jazz up your blueberry cheesecake cookies with some creative toppings and flavors?
Well, if you're looking to give your blueberry cheesecake cookies a little extra oomph, you've come to the right place! There are so many delicious and creative toppings and flavors you can add to your classic blueberry cheesecake cookie recipe to make it even more special. Here are some of our favorite ways to jazz up your cookies and make them stand out:
Add a sprinkle of crunchy granola to the top of each cookie to give them added texture and flavor.
Sprinkle some cinnamon sugar on top of the cookies for a sweet and spicy flavor.
Drizzle melted white or dark chocolate over the cookies for a decadent and indulgent treat.
Add a dollop of whipped cream for a light and airy texture.
Top the cookies with citrus zest for an extra burst of flavor.
Sprinkle some chopped nuts for a crunchy and nutty finish.
Add a few drops of food coloring to the cookie dough for a fun and colorful effect.
No matter what creative toppings or flavors you decide to add to your blueberry cheesecake cookies, they're sure to be a hit with your family and friends.