Delicious Blackberry-Mango Tart Recipe
I'm always looking for new ways to enjoy a delicious dessert, and this blackberry-mango tart recipe is definitely one of my favorites! I love the combination of fresh fruit and warm, buttery pastry. It's a winning combination every time! The tart is simple to make and I'm sure you'll love it as much as I do. The sweet and tart flavors of the blackberry and mango mingle perfectly, making for a truly decadent treat. Give it a try and you won't be disappointed.
Blackberry-Mango Tart Recipe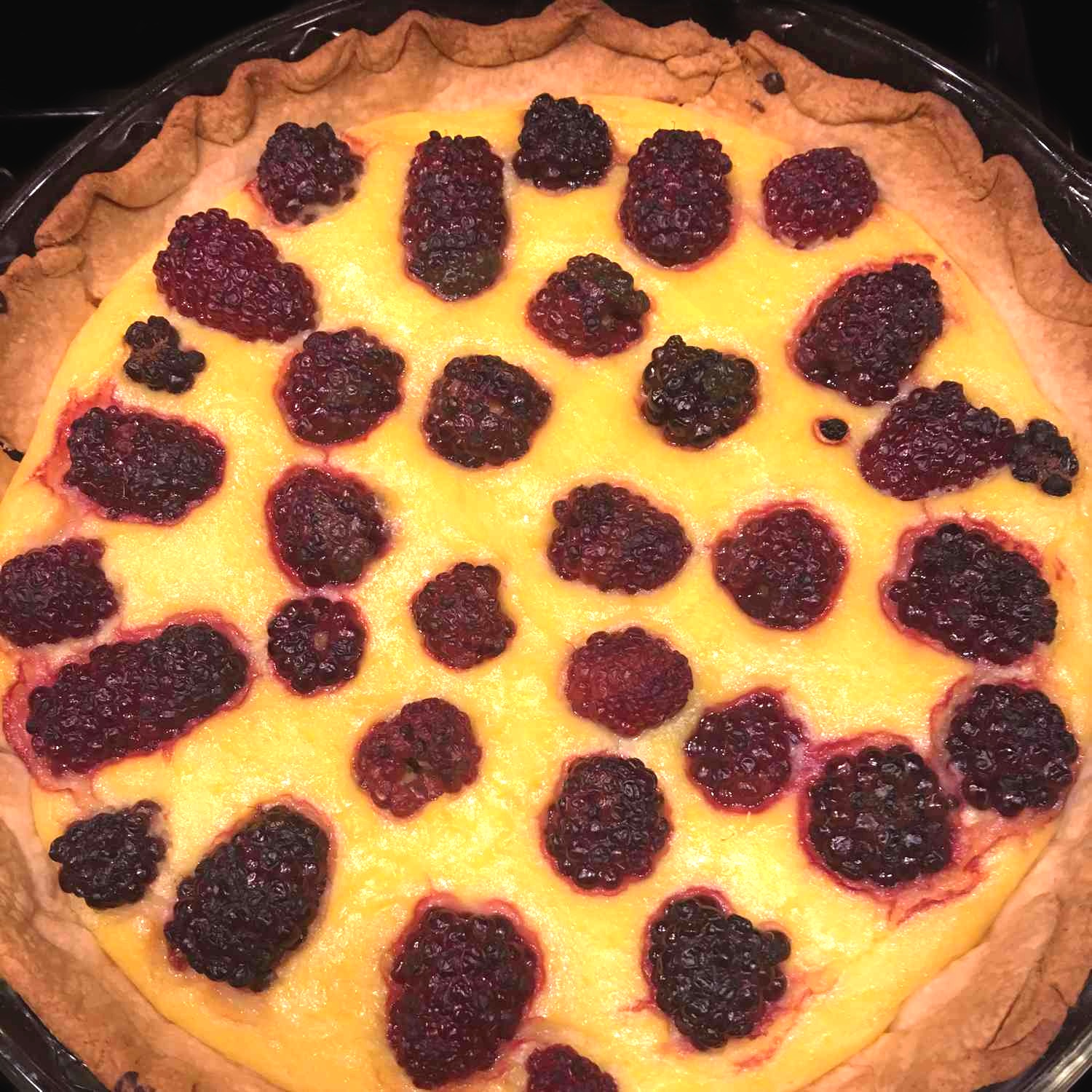 Ingredients
2 cups fresh blackberries
2 cups diced mango
1/2 cup granulated sugar
1/4 cup all-purpose flour
2 tablespoons lemon juice
1/4 teaspoon ground cinnamon
2 tablespoons cold butter, cut into small cubes
2 tablespoons chopped walnuts
1 unbaked 9-inch tart shell
Instructions
Start prepping your ingredients: Gather 2 cups of fresh blackberries, 2 cups of diced mango, and 1/2 cup of granulated sugar.
Put your 1/4 cup of all-purpose flour, 2 tablespoons of lemon juice, and 1/4 teaspoon of ground cinnamon into a small bowl. Whisk them together until everything is creamy and smooth.
Cut your 2 tablespoons of cold butter into small cubes. Set aside.
Put your 2 tablespoons of chopped walnuts in a separate bowl and set aside.
Now it's time to assemble the tart! Place your 9-inch unbaked tart shell in a tart pan and spread the blackberries and mango over the bottom.
Sprinkle the sugar, flour, lemon juice, and cinnamon mixture over the fruit.
Dot the top of the tart with the cubed butter and sprinkle with the chopped walnuts.
Pop the tart in the oven at 350°F for 45 minutes.
After 45 minutes remove the tart from the oven and let it cool for at least 30 minutes before serving. Enjoy your Blackberry-Mango Tart!
Nutrition Facts
Calories: 448, Total Fat: 16.5g, Saturated Fat: 7.9g, Trans Fat: 0.3g, Cholesterol: 28mg, Sodium: 191mg, Carbohydrates: 71.8g, Fiber: 5.5g, Sugar: 40.2g, Protein: 5.2g
What inspired you to make a blackberry-mango tart?
It all started with a craving for something sweet and fruity. I had a delicious blackberry-mango smoothie the other day, and it inspired me to create a tart that was just as delicious. I knew I wanted to make a tart that was both fruity and sweet, so I decided to combine the two flavors in one amazing tart.
I started by creating the pastry crust. I used a combination of all-purpose flour, sugar, and butter to create a light and flaky base. The butter helped to create a rich flavor that was perfect for the tart.
Next, I made the filling. I used fresh blackberries and mangoes to create a sweet and fruity filling. I added a bit of sugar and lemon juice to enhance the flavor of the fruit.
Lastly, I topped the tart off with a crumb topping made from graham cracker crumbs, sugar, and butter. This added a crunchy texture to the tart that was the perfect finishing touch.
After baking the tart in the oven, I let it cool and then served it with a dollop of whipped cream. The combination of sweet, tart, and creamy flavors was heavenly.
My blackberry-mango tart was a huge hit – it was so delicious that everyone who tried it wanted to have a second slice! It was definitely an inspiration to make a tart that was both sweet and fruity, and I'm glad I did.
How do the flavors of blackberries and mangoes come together in this tart?
You won't believe how amazing the flavors of blackberries and mangoes are together in this tart! The combination of sweet and tangy flavors that come from these two fruits create a unique and delicious flavor that will have you coming back for more.
Here's how the flavors of blackberries and mangoes come together in this tart:
The tartness of the blackberries is balanced out by the sweetness of the mango, creating a perfect balance of flavor.
The two fruits blend together perfectly, with the blackberry's fruity and tart flavor complementing the more subtle, sweet flavor of the mango.
The tart also includes a hint of sweetness from the addition of a touch of sugar and a sprinkle of cinnamon, which adds a hint of warmth and depth to the overall flavor.
Finally, a dollop of whipped cream on top adds a light and creamy finish that perfectly complements the tartness of the blackberries and the sweetness of the mango.
No matter how you slice it, this Blackberry-Mango Tart is a delicious and delightful combination of flavors that will leave you wanting more.
What tips do you have for selecting the best blackberries and mangoes for the tart?
When selecting blackberries and mangoes for your tart, you should look for fruits that are ripe and not overripe. Ripe fruit will be firm, but not hard, and have a vibrant natural color.
Avoid any fruits that have bruises, cuts, soft spots, or any other signs of damage.
Choose blackberries and mangoes that are very fragrant. The sweet aroma lets you know that you are getting the freshest and tastiest fruits.
Try to pick fruits of the same size to ensure even baking.
If you're not sure whether a fruit is ripe enough, taste it to determine the ripeness. Ripe fruit will be sweet and juicy.
You can also use frozen fruits for your tart if you don't have access to fresh ones. Make sure to thaw them and drain off the excess liquid before adding them to the tart.
What are some helpful tips for plating and serving the blackberry-mango tart?
If you want to make the most of your Blackberry-Mango Tart, here are a few great tips for plating and serving:
Pre-slice your tart before serving – both for convenience and to make a great presentation.
Balance the tart with a few colourful toppings – try adding a sprinkle of chopped mint, a few fresh blackberries, or a scoop of coconut cream.
For the most festive presentation, serve the tart on a platter and add a few fresh flowers.
If you want to keep things simple, you can always serve the tart as-is, no extra decorations required.
Serve the tart as soon as possible after it has been prepared – it tastes best when it is still warm.
If you want to add a bit of crunch, try serving the tart with a few croutons or chopped nuts on top.
Don't forget the accompaniments – serve the tart with a scoop of ice cream or a dollop of whipped cream.
What's the main difference between a tart and a pie?
If you've ever been confused about the difference between a tart and a pie, you're not alone. The two look very similar, but there are some key differences that make them distinct.
The main difference between a tart and a pie is their crust. Tarts feature a thin, crunchy crust, made from pastry dough, that is not as sweet as a pie crust. This dough is usually blind-baked in a tart pan before being filled. On the other hand, a pie crust has a flaky, buttery texture and is typically sweeter than a tart crust. Pie crusts often require baking after being filled with a sweet or savory filling.
Another difference between tarts and pies is the depth of the filling. Pie fillings are typically deeper and can hold a lot of ingredients. Tarts, however, have a shallow depth and usually contain fewer ingredients, making them a bit less hearty than pies.
Finally, tarts are usually finished with pretty decorations. These decorations can range from fresh fruit to piped cream, and they provide a nice contrast to the crunchy tart crust. Pies, on the other hand, are usually finished with a lattice crust or a sprinkle of sugar.
So there you have it – the main difference between tarts and pies.
What's the secret to making a flaky and buttery pastry crust for the tart?
You've come to the right place! Making a flaky and buttery pastry crust for a tart is really easy and absolutely delicious. Here are a few tips to help you get that perfect crust each and every time.
First, you should always start with cold butter. Grating it up into small pieces will help it incorporate into the flour mixture more easily. This will help create that delicate, flaky texture we all know and love.
Next, be careful not to overwork the dough. Once the butter is mixed in with the flour, use a fork to roughly mix the dough together. This will create a crumbly texture which will help make your crust light and flaky.
Finally, when you're rolling out your dough, use a light touch. You want to be gentle with the dough, so you don't end up with a tough crust. The light touch will help to create a delicate and flaky pastry crust that you'll be proud of.
These simple tips will help you create a delicious and flaky pastry crust for your Blackberry-Mango Tart.
What other fruits or flavors would pair well with blackberries and mangoes in the tart?
If you're looking to add something new to your blackberry-mango tart, you're in luck! There are so many other fruits or flavors that pair wonderfully with these two. For instance, you could add some freshly sliced peaches or apricots for a juicy, sweet twist. Or why not try something more tart, like pomegranate seeds or cranberries – for a refreshing and unique flavor. If you're feeling daring, you could add a touch of citrus by adding some orange or lime zest. A hint of cinnamon or nutmeg can also add a delicious depth of flavor, while toasted nuts like walnuts, almonds, or hazelnuts can give a lovely crunch. For something a bit more indulgent, try adding some white chocolate chips or a drizzle of dark chocolate.