Hearty And Healthy Black Bean Soup
Growing up, my family's go-to soup was always my mom's black bean soup. We'd look forward to it every week and it never failed to be a hit. No one could resist the amazing combination of black beans, onion, garlic, and cumin – it was the perfect mix of flavors that made the soup so inviting. I'm so excited to share this recipe with you, as it has been a part of my family for many years. Try it out and you won't be disappointed – it's sure to become a favorite in your household, too!
Black Bean Soup Recipe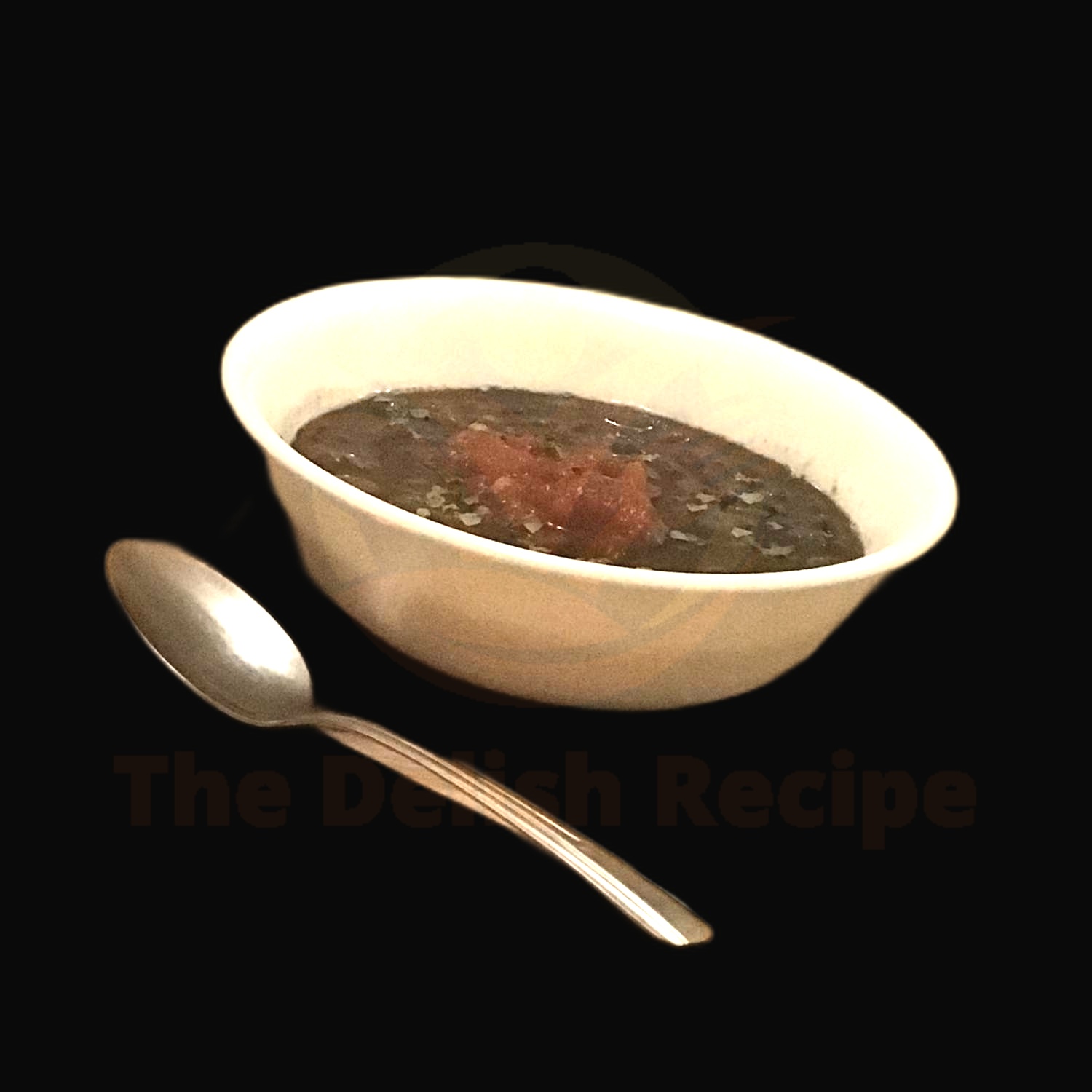 Ingredients
1 tablespoon olive oil
1 small onion, chopped
2 cloves garlic, minced
1 teaspoon ground cumin
1 teaspoon chili powder
1/2 teaspoon smoked paprika
1 (15-ounce) can black beans, drained and rinsed
2 cups vegetable broth
1/2 teaspoon salt
1/4 teaspoon black pepper
1/2 cup diced tomatoes
1/4 cup chopped fresh cilantro
Instructions
Let's start cooking! First, heat the olive oil in a medium-sized pot over medium-high heat.
Add the onion and garlic to the pot and cook, stirring occasionally, until the onion is soft and translucent, about 5 minutes.
Now add the cumin, chili powder, and smoked paprika to the pot and stir for about 30 seconds.
Add the black beans, vegetable broth, salt, and pepper to the pot and stir. Bring the mixture to a boil and then reduce the heat to low. Simmer for about 60 minutes, stirring occasionally.
Once the soup is done simmering, add the diced tomatoes and fresh cilantro to the pot and stir. Simmer for an additional 30 minutes.
You did it! Your black bean soup is now ready to enjoy. Serve warm with some crusty bread or a side salad. Enjoy!
Nutrition Facts
Calories: 300
Total Fat: 6g
Saturated Fat: 1g
Cholesterol: 0mg
Sodium: 890mg
Total Carbohydrate: 46g
Dietary Fiber: 15g
Sugars: 4g
Protein: 14g
How can you make black bean soup even more nutritious?
Making black bean soup even more nutritious is easy! All you have to do is add some nutritious ingredients to your soup to increase its nutritional content. Here are some great ideas to make your black bean soup even healthier:
Add fresh vegetables like carrots, celery, onions, peppers, and garlic to your soup. These vegetables are packed with vitamins, minerals, and other nutrients. Plus, they add a great flavor to your soup.
Add some cooked quinoa to your soup. Quinoa is a great source of protein and fiber, plus it adds an extra layer of flavor to your soup.
Top your soup with some unsweetened Greek yogurt. Greek yogurt is a great source of calcium and protein, and it adds a great creamy texture to your soup.
Add some avocado slices to your soup. Avocado is a great source of healthy fats and vitamins, and it adds a creamy texture and flavor to your soup.
Add some fresh herbs to your soup. Herbs like cilantro, oregano, and basil add a great flavor to your soup and also provide a variety of vitamins and minerals.
By following these simple steps, you can make your black bean soup even more nutritious and flavorful.
What are the key ingredients for a delicious black bean soup?
Black bean soup is a comforting and delicious dish that is made with a few simple ingredients. The key ingredients for a great rendition of this classic soup are black beans, diced tomatoes, garlic, onion, bell peppers, chicken broth, and chili powder. All of these ingredients combine to create a flavorful and satisfying soup.
Black beans are the star of this soup and give the dish a rich and hearty flavor. They should be cooked until softened before adding to the soup, adding a bit of salt to help bring out the flavor. Diced tomatoes help to add a bit of acidity and brightness, while the garlic, onion, and bell peppers add sweetness and depth. Chicken broth is the liquid that binds everything together, while chili powder brings a bit of heat and spice.
The combination of these ingredients creates a delicious and satisfying black bean soup. It can be served as is, or topped with a dollop of sour cream, fresh cilantro, and diced avocado.
What are the health benefits of black beans?
High in Nutrients: Black beans are packed with essential vitamins and minerals, including magnesium, folate, iron, phosphorus, potassium, and zinc. They're also an excellent source of protein and dietary fiber, meaning they'll keep you feeling full for longer.
Heart health: Eating black beans can help reduce blood pressure, bad cholesterol levels, and inflammation, all of which can help protect your heart.
Digestive health: The dietary fiber in black beans is great for digestion and can help prevent constipation. It can also help keep your blood sugar levels in check, which is important for maintaining good overall health.
Weight loss: Black beans are low in calories and can help you feel full for longer, making them a great choice if you're trying to lose weight.
Cancer prevention: Black beans are a great source of antioxidants, which can help protect cells from damage that can lead to cancer.
Immune system booster: The nutrients in black beans can help boost your immune system and keep you healthy.
Improved cognitive function: Eating black beans can help boost your brainpower, as the folate and magnesium in them can help with memory and learning.
Overall, black beans offer a host of health benefits and should be a part of your regular diet. Whether you cook them into a delicious soup or just enjoy them as a side dish, black beans are a nutritious and tasty addition to any meal.
What are some interesting ways to serve black bean soup?
If you're looking for some new and interesting ways to serve up your black bean soup, you've come to the right place! Here are some delicious ideas to take your black bean soup from boring to extraordinary.
For a Southwestern flair, try topping your soup with a dollop of sour cream and a sprinkle of crispy tortilla strips. Or, for a more traditional approach, you can add a topping of crumbled chorizo and a sprinkling of chopped cilantro.
For something a bit more daring, why not try adding a dollop of guacamole or a spoonful of pineapple salsa to your black bean soup? The combination of flavors will be sure to tantalize your taste buds.
If you prefer a creamy soup, you can blend in some cream cheese or coconut cream. This will give your soup a rich, velvety texture that's sure to satisfy your cravings.
If you're looking for something a bit lighter, try adding a handful of baby spinach to your soup. This will add a fresh and healthy twist to your meal.
Finally, for a unique twist, why not try topping your black bean soup with some roasted pumpkin seeds or toasted pepitas? The crunchy texture and nutty flavor of the seeds will be a delightful addition to the soup.
What are some creative garnishes for black bean soup?
Looking to add some creative flair to your black bean soup? You'll be impressed with how easy it is to take your soup to the next level with a few simple garnishes. Here are some creative ways to garnish up your black bean soup:
Toasted croutons: Toasted croutons are a classic garnish that adds a great crunch to your dish. Toast up some cubed bread with a little olive oil, garlic, and salt for a tasty topping.
Fresh herbs: Fresh herbs are a great way to add a flavorful punch to your soup. Try chopping up some parsley, cilantro, or mint and sprinkling it on top.
Roasted vegetables: Roasted vegetables are a great way to add texture and flavor to your soup. Try roasting up some bell peppers, onions, and mushrooms and adding them to your soup for a delicious, hearty topping.
Fried tortillas: Fried tortillas are a great way to take your soup to the next level. Slice up some corn tortillas, fry them in a little oil, and sprinkle them on top of your soup.
Cheese: Cheese is the perfect garnish for black bean soup. Sprinkle some grated cheese on top and let it melt into the soup for an added cheesy flavor.
Garnishes are a great way to make your black bean soup more interesting and flavorful.