Slider Sensation – Deliciously Savory Beef Sliders
I remember the first time I ever had beef sliders. I was at a family gathering and one of my aunts had made them for everyone. I remember being so excited to try them and being completely blown away by the flavor. The soft, juicy beef was complimented perfectly with the creamy cheese, sweet buns, and tangy sauce. From that moment on, beef sliders became one of my favorite recipes. I now make them for my family and friends whenever I have the chance because I know they will be a hit.
Beef Sliders Recipe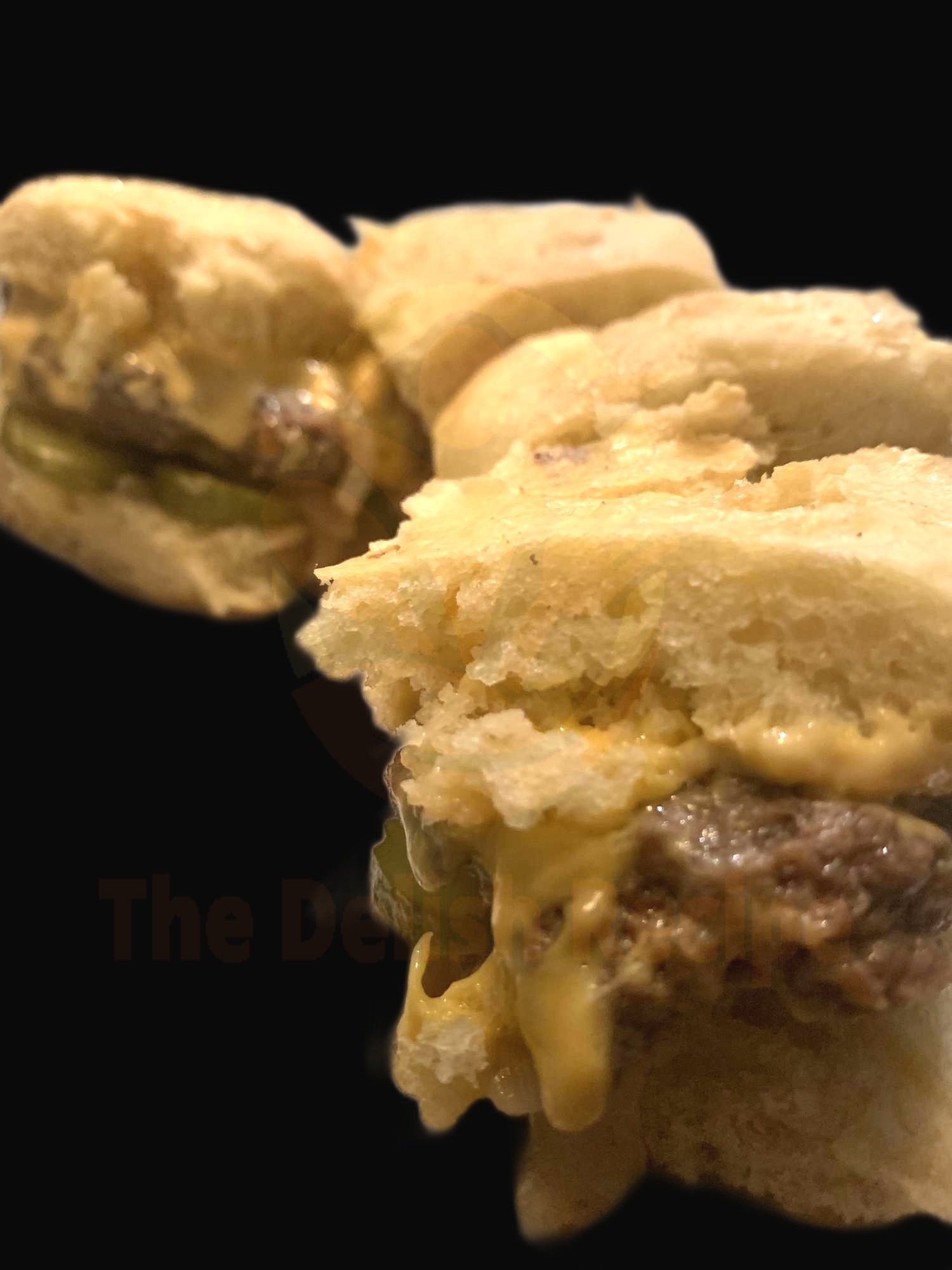 Ingredients
1 lb ground beef
5 slider buns
1 teaspoon garlic powder
1 teaspoon onion powder
1 teaspoon Italian seasoning
Salt and pepper, to taste
1/2 cup Italian-style breadcrumbs
2 tablespoons olive oil
1/4 cup ketchup
1/4 cup mayonnaise
1 tablespoon yellow mustard
5 slices cheddar cheese
5 dill pickle slices
Instructions
Start by preheating your oven to 375 degrees.
In a large bowl, combine the ground beef, garlic powder, onion powder, Italian seasoning, salt, pepper, and Italian breadcrumbs. Use your hands to mix everything together until it's completely incorporated.
Form the mixture into 5 equal patties and set aside.
Heat the olive oil in a large skillet over medium-high heat. Once the oil is hot, add the beef patties and cook for about 3-4 minutes per side, or until the patties are cooked through.
Place the slider buns on a baking sheet and spread 1/2 tablespoon of ketchup on each side of the buns. Place the cheese slices on top of the ketchup.
Place the beef patties on top of the cheese slices and top each patty with a dill pickle slice.
Bake in the oven for about 20 minutes, or until the buns are lightly toasted and the cheese is melted.
Meanwhile, mix the mayonnaise and yellow mustard together in a small bowl.
Once the sliders are out of the oven, spread the mayonnaise mixture on the top part of the buns.
Place the top part of the buns on top of the bottom buns and serve your delicious beef sliders! Enjoy!
Nutrition Facts
Calories: 250
Fat: 10g
Carbohydrates: 16g
Protein: 16g
Sodium: 470mg
Cholesterol: 40mg
What makes beef sliders so popular?
Beef sliders have been a popular food item for decades, and for good reason! They are delicious, convenient, and affordable. What's more, they can be customized to suit any palate or dietary restrictions. It's no surprise that beef sliders have become a staple for casual dining.
The taste of beef sliders is one of the main reasons for their popularity. The savory ground beef is cooked to perfection and served on a soft, fluffy bun. The combination of flavors is irresistible and can be enjoyed by all ages. The fact that they are bite-sized means they can be eaten in a few bites and savored without making a mess.
Beef sliders are also incredibly convenient and affordable. They can be ordered in small or large quantities, making them perfect for large gatherings or meal prepping. They are also incredibly budget-friendly and can be found at most fast food restaurants.
Finally, beef sliders can easily be customized to fit any dietary needs. There are options for vegetarian, gluten-free, low-carb, and more. This means that everyone can enjoy this delicious snack without compromising on taste.
All in all, it's no wonder why beef sliders have become so popular. They're delicious, convenient, and affordable, and can be customized to fit any dietary needs.
What are some delicious toppings to add to beef sliders?
When it comes to beef sliders, the topping options are endless! For those looking to add some extra deliciousness to their sliders, here are a few tasty topping ideas.
One easy way to jazz up beef sliders is with a layer of melted cheese. American, cheddar, Monterey Jack, you name it – any type of cheese will make your sliders extra cheesy and yummy.
Another great topping for beef sliders is a creamy and flavorful sauce. A classic option is mayo and ketchup, but you can also go for something a bit more unique, like aioli, pesto, or honey mustard.
If you're feeling adventurous, you can try adding some crunchy vegetables to your sliders. Pickles, lettuce, tomatoes, and onions all work great. For even more texture and flavor, you can also try some roasted peppers or jalapenos.
Last but not least, don't forget about the pickles! Dill, sweet, or sour – pickles add a bit of zing to your beef sliders and make them all the more tasty.
No matter what toppings you decide to add to your beef sliders, you're guaranteed to have a scrumptious snack that everyone will love.
How can you easily prepare beef sliders at home?
Making beef sliders at home is a breeze! All you need are a few simple ingredients and a little bit of time and you'll have delicious sliders in no time. Here's a quick and easy recipe to get you started.
First, you'll need to gather your ingredients. You'll need 2 lbs of ground beef, 1/2 teaspoon of garlic powder, 1/2 teaspoon of onion powder, 1 teaspoon of salt, and 1/2 teaspoon of pepper. You'll also need slider buns, cheese, and any other toppings you'd like.
Next, preheat your oven to 350°F. In a large bowl, mix together the ground beef, garlic powder, onion powder, salt, and pepper. Form the mixture into small patties, about the size of your slider buns.
Place the patties on a baking sheet and bake in the preheated oven for 15 minutes. Remove from the oven, top with your desired cheese and any other toppings, and bake for an additional 5 minutes.
When finished, assemble the sliders on the slider buns and serve! With this easy recipe, you'll be able to whip up a delicious batch of beef sliders in no time.
What kind of bread should you use for beef sliders?
When it comes to beef sliders, the best kind of bread you should use is a soft, sweet Hawaiian roll. If you want to get truly creative, try brioche for a more decadent slider. Brioche is a light and airy French bread that adds a wonderfully buttery flavor to your sliders. Additionally, for a more robust flavor, a soft potato roll will give your sliders that extra crunch.
No matter what kind of bread you choose to use for your beef sliders, it's important that it is able to hold up to the juicy beef patty. You also want it to be soft enough to be able to bite into without having to pull apart the bread and patty.
Hawaiian rolls, brioche, and potato rolls are all great choices for beef sliders that will ensure that your sliders stay together and don't fall apart. These breads are versatile and can be used for any type of slider, including turkey, lamb, and chicken.
What types of sauces go well with beef sliders?
When it comes to beef sliders, the possibilities for sauces are endless! Not only do you have classic condiments like ketchup and mustard, but you can also mix it up with some creative options like chipotle mayo or garlic aioli. Whatever you choose, these sauces will be sure to add an extra burst of flavor and make your beef sliders even more delicious.
For a classic flavor, ketchup and mustard are both excellent choices. If you're looking for something a little more unique, try mixing ketchup with a bit of Worcestershire sauce for a zesty flavor. Chipotle mayo is also a great way to add a bit of heat to your sliders, while garlic aioli adds a creamy, garlicky taste.
If you're feeling adventurous, you can also experiment with different types of BBQ sauces. Sweet and smoky sauces are always a great choice for beef sliders, and you can also try a tangy mustard-based BBQ sauce for an added kick. For a unique twist, try pairing your sliders with a spicy Asian-style chili sauce or a creamy horseradish sauce.
No matter what sauces you choose, you'll be sure to create a delicious combination of flavors that will make your beef sliders even more tantalizing. So don't be afraid to get creative and mix up your sauces to find the perfect flavor combination.
What are some creative ideas to serve beef sliders?
If you're looking to serve up something delicious and creative with beef sliders, you've come to the right place! There are lots of fun and delicious ways to make beef sliders, from classic recipes to more unique takes. Here are some of our favorite ideas to get you started.
Classic Slider: This is an all-time favorite, and for good reason. Simply cook up your favorite beef patties, add some cheese and your favorite toppings, and serve on mini-buns.
Barbecue Slider: Give your classic slider a fun twist by adding in your favorite barbecue flavors. Top the patties with your favorite barbecue sauce and some diced onions and peppers for an extra kick.
Spicy Slider: If you like a bit of a kick, try adding some spice to your slider. Start by topping your patties with pepper jack cheese and then add some diced jalapenos, hot sauce, and a dollop of sour cream.
Mediterranean Slider: For a more exotic take, top your patties with feta cheese, olives, and a dollop of tzatziki. Not only is it tasty, but it's also a great way to get some extra veggies into your meal.
Teriyaki Slider: For an Asian-inspired twist, top your patties with teriyaki sauce and some pineapple slices. You can even add in some diced peppers for an extra flavor punch.
No matter which way you go, beef sliders are sure to be a hit at your next gathering.