Delicious Banana Split Cupcakes Recipe!
I remember my first time trying banana split cupcakes; they were like a dream come true! I had always been a fan of banana splits, so when I heard about this delicious cupcake recipe, I was intrigued. I couldn't believe the combination of flavors – the moist banana cake, creamy vanilla frosting, and sweet strawberries and cherries. The flavors blended together so perfectly that I knew I had to share this recipe with everyone! I'm sure that you and your family will love these delicious banana split cupcakes as much as I do.
Banana Split Cupcakes Recipe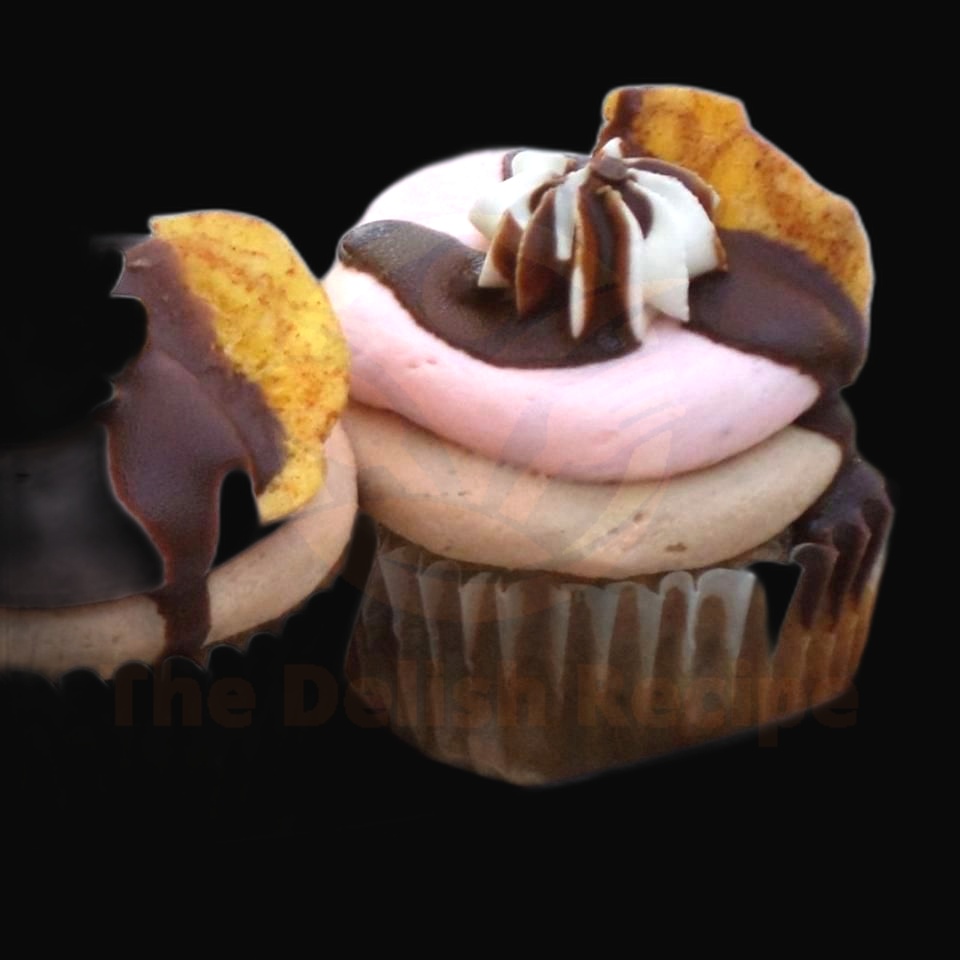 Ingredients
2 cups all-purpose flour
2 teaspoons baking powder
1 teaspoon baking soda
½ teaspoon salt
½ cup (1 stick) unsalted butter, softened
1 cup granulated sugar
2 large eggs
½ cup milk
1 teaspoon pure vanilla extract
1 cup mashed ripe banana (about 2 large bananas)
½ cup chopped walnuts
¾ cup chopped fresh strawberries
½ cup mini semi-sweet chocolate chips
5 maraschino cherries, halved
Instructions
Preheat the oven to 350°F and grease a cupcake pan.
In a medium bowl, whisk together the flour, baking powder, baking soda, and salt.
In a large bowl, beat together the butter and sugar until light and fluffy.
Add the eggs one at a time, beating well after each addition.
Add the milk and vanilla extract and beat until combined.
Add the flour mixture to the wet ingredients and mix until just combined.
Stir in the mashed banana, chopped walnuts, chopped strawberries, and mini semi-sweet chocolate chips.
Fill the prepared cupcake pan with the batter, filling each cup about ⅔ full.
Bake the cupcakes for 20-25 minutes, or until a toothpick inserted into the center comes out clean.
Remove the cupcakes from the oven and let cool completely.
Once cooled, top each cupcake with half a maraschino cherry and enjoy!
Nutrition Facts
Calories: 296
Total Fat: 11.4 g
Saturated Fat: 5.4 g
Cholesterol: 58 mg
Sodium: 200 mg
Total Carbohydrates: 43.8 g
Dietary Fiber: 2.3 g
Sugars: 24.3 g
Protein: 4.7 g
What inspired the idea for banana split cupcakes?
The idea for banana split cupcakes was inspired by the classic summertime dessert! Everyone loves a good banana split, but making them can be a bit of a hassle. So why not combine the two – a cupcake and a banana split – to create a delicious and convenient treat? The combination of banana, chocolate, and strawberry flavors make for a delicious treat that's sure to be a hit at any gathering. Plus, it's a fun and creative way to combine two classic desserts into one.
What are your top tips for baking banana split cupcakes?
Here are my top tips for baking banana split cupcakes:
Start with a classic yellow cake mix and add a mashed banana to the batter for a delicious banana flavor.
For the frosting, try a combination of cream cheese and whipped cream.
Top the cupcakes with cherries, chocolate syrup and chopped nuts to give them that classic banana split look.
To make them extra special, use a mini ice cream scoop to spoon the frosting on top for a fun presentation.
Finally, don't forget a sprinkle of chopped peanuts for the perfect finishing touch.
What makes these cupcakes stand out from other recipes?
Banana Split Cupcakes stand out from other recipes because they combine the classic flavors of a banana split in a delicious and fun cupcake. Not only are they tasty, but they are incredibly easy to make. With just a few simple ingredients, you can whip up a batch of these scrumptious cupcakes in no time.
What makes these cupcakes special is that they are filled with a rich and creamy banana pudding filling. This adds an extra layer of flavor and texture to the cupcakes that really makes them special. To top it off, a swirl of whipped cream and a cherry give these cupcakes the classic look of a banana split.
In addition to being easy to make, these cupcakes are a great way to make a dessert that will impress your friends and family. The combination of flavors in these cupcakes is a surefire way to satisfy any sweet tooth. Plus, they are a fun and creative way to make a traditional banana split.
So, what makes these Banana Split Cupcakes stand out from other recipes? It's the delicious combination of flavors, the easy-to-make ingredients, and the creative twist on a classic dessert that make these cupcakes unlike any other.
How would you describe the flavor and texture of these cupcakes?
Banana Split Cupcakes have a delightfully moist, fluffy texture that will melt in your mouth. As for the flavor, they are a heavenly combination of sweet banana, tangy pineapple, and rich chocolate flavors! The addition of crunchy nuts and a classic cherry on top give these cupcakes an irresistible texture.
What are some suggestions for decorating the cupcakes?
Decorating banana split cupcakes can be a fun and creative way to give any party or celebration an extra special touch! Here are some of our favorite suggestions for adding some flair to your cupcakes:
Start with a classic: Top your cupcakes with a dollop of whipped cream and a cherry to give them a classic banana split flavor.
Add some color: Create a rainbow of colors for your cupcakes by using different flavors of frosting. You can also add sprinkles and edible glitter for a sparkly touch.
Go nuts: Give your cupcakes a crunchy topping by adding chopped peanuts, almonds, or walnuts.
Get creative: Try using melted chocolate chips to create a drizzle pattern on the top of each cupcake. You can also add colorful candies and mini marshmallows to give your cupcakes a fun and unique look.