This Banana Cake II recipe is a moist and delicious cake that is perfect for any occasion! It is made with ripe bananas, so it has a naturally sweet flavor. The cake is also very easy to make, and you can easily find all of the ingredients at your local grocery store.
Ingredients
-1 cup (2 sticks) unsalted butter, at room temperature
-1 1/2 cups granulated sugar
-3 large eggs, at room temperature
-1 teaspoon pure vanilla extract
-3/4 cup well-shaken buttermilk
-1 cup mashed ripe bananas (about 2 large bananas)
-2 1/2 cups all-purpose flour
-1 teaspoon baking powder
-1/2 teaspoon baking soda
=Pinch of salt
Instructions
1. In a large bowl, mix together butter or margarine, sugar, eggs and vanilla. Set aside.
2. In another bowl, sift together flour, salt, soda and baking powder. Add these dry ingredients to the creamed mixture.
3. Add sour milk and bananas to the batter and beat together well until combined thoroughly.
4a) For two 9-inch round cake pans: line the bottom of each pan with wax paper then grease and flour the sides of each pan lightly OR 4b) for one 9×13 inch pan: line the bottom of the pan with wax paper then grease and flour the sides of the pan lightly.
5 Bake at 350 degrees Fahrenheit (175 degrees Celsius) for 17 to 20 minutes for layered cakes or 25 to 40 minutes for sheet cake until toothpick or cake tester comes out clean when inserted into center of cake(s).
Nutrition Facts
Serving size: 1 slice
Calories: 210
Fat: 10 g
Saturated fat: 6 g
Unsaturated fat: 4 g
Trans fat: 0 g
Cholesterol: 70 mg
Sodium: 190 mg
Potassium: 120 mg
Carbohydrates 27g
Fiber :1 g
Sugar :16 g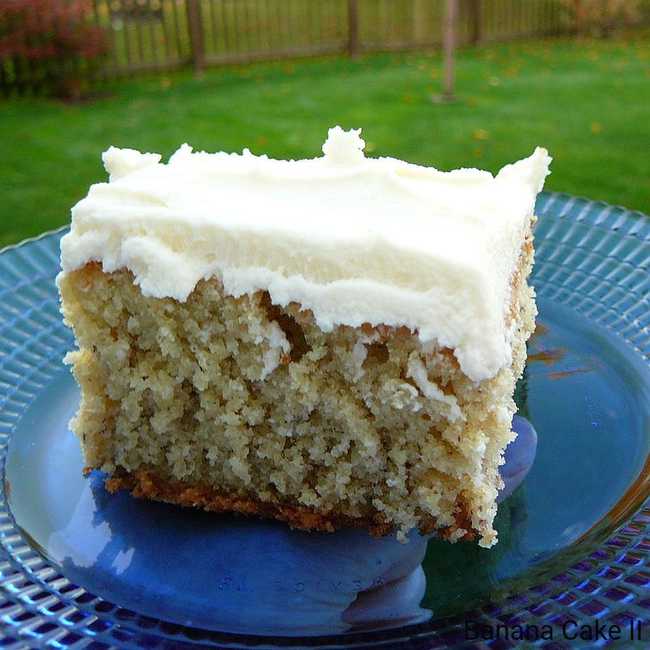 Are banana bread and banana cake the same?
Banana bread and banana cake are two very popular recipes that use bananas as a key ingredient. Both recipes produce delicious baked goods, but there are some key differences between them.
Traditional banana cake is made like a butter cake, with the addition of mashed bananas for flavor. The resulting cake is fluffy and moist, with a strong banana flavor. Banana bread has a firmer, more dense texture than banana cake, and is great for slicing and toasting. Because of its denser texture, banana bread often feels more filling than banana cake.
So, while both banana bread and banana cake are delicious treats, they are not the same! Be sure to choose the right recipe depending on what you're looking for.
Why is it called banana bread?
Banana bread is a quick bread made with ripe bananas, flour, sugar, butter, eggs, and baking soda. It is called banana bread because it is made with bananas, and it is baked in a loaf pan like other quick breads such as zucchini bread and pumpkin bread.
There are many variations of banana bread, but the most common include adding chocolate chips or nuts to the batter. Some recipes also call for using only brown sugar or adding spices such as cinnamon or nutmeg. Banana bread can be either light and fluffy or dense and moist, depending on the recipe.
The history of banana bread is unclear, but it is thought to have originated in the United States in the early 20th century. Bananas were introduced to the Americas by Spanish explorers in the 16th century, and they quickly became a popular fruit crop in Central America and Caribbean islands. It's possible that early settlers adapted European recipes for yeast-based cakes and quickbreads (such as English muffins) to use bananas instead of other fruits.
Whatever its origins, banana bread has become a beloved American tradition. It's perfect for breakfast or brunch served warm from the oven with butter spread on top. It also makes a great snack or dessert sliced thickly and served with ice cream or whipped cream.
Can you use sour milk for banana cake?
Yes, you can use sour milk for banana cake! The acidity in the sour milk helps to tenderize the cake, resulting in a light and fluffy texture. This particular recipe calls for 2 tablespoons of vinegar plus enough milk to make one cup.
Whats the difference between a cake and a loaf?
A cake is a type of dessert that is typically made by combining flour, sugar, eggs, butter, baking powder and milk. The batter is then baked in an oven. Cakes can be either round or square in shape.
A loaf cake, on the other hand, is a type of cake that is baked in a loaf pan. Loaf cakes are typically denser and sweeter than traditional cakes. They also generally have a higher ratio of fat to flour than traditional cakes.
What is the difference between banana bread and banana cake?
Banana bread is a type of quick bread made with mashed bananas as the main ingredient. It is usually denser and firmer in texture than banana cake, which is a type of cake made with banana as the main ingredient. The difference between these two desserts lies in their textures, with banana bread being more dense and firm while banana cake is fluffy and light.
The key to making a good banana bread or cake lies in using ripe bananas. Ripe bananas are those that have been left to sit out until they are brown and soft to the touch.