Deliciously Spiced Cake Donuts Baked To Perfection
I can still remember the first time I made these Baked Spiced Cake Donuts. It was a special occasion and I wanted to make something special for everyone. I was nervous, but the end result was so worth it! These donuts are the perfect combination of sweet, spiced, and cakey. The aromas of cinnamon, nutmeg, and sugar fill the air while they bake in the oven. If you're looking for an easy, delicious, and crowd-pleasing treat, then these Baked Spiced Cake Donuts are the perfect choice!
Baked Spiced Cake Donuts Recipe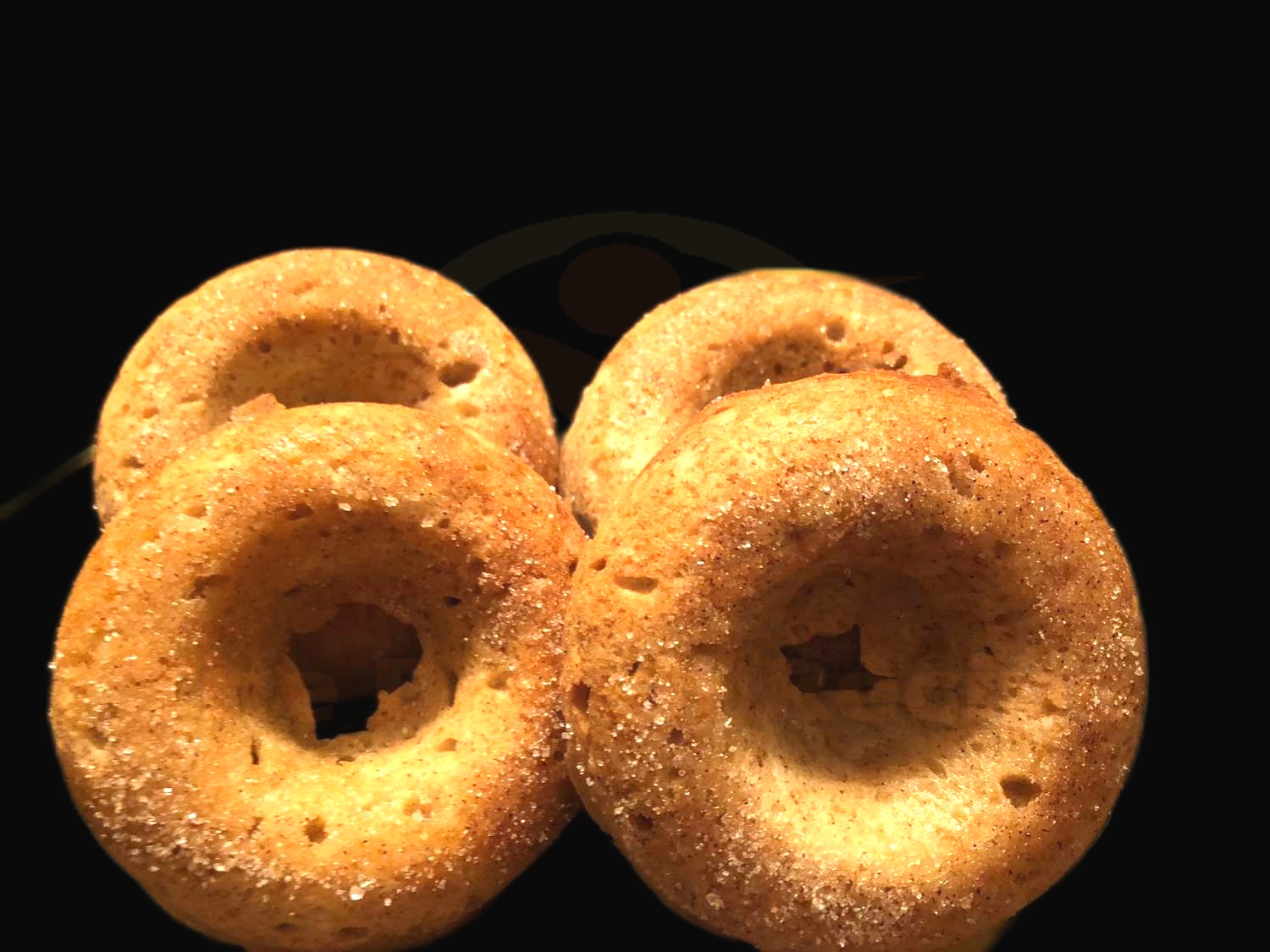 Ingredients
1 cup all-purpose flour
1 teaspoon baking powder
¼ teaspoon salt
1 teaspoon ground cinnamon
¼ teaspoon ground nutmeg
¼ teaspoon ground ginger
½ cup white sugar
1 egg
1 teaspoon vanilla extract
¼ cup vegetable oil
½ cup milk
Instructions
Preheat your oven to 350 degrees Fahrenheit.
In a large bowl, mix together the flour, baking powder, salt, cinnamon, nutmeg, and ginger.
In a separate bowl, whisk together the sugar, egg, vanilla extract, vegetable oil, and milk.
Slowly pour the wet ingredients into the dry ingredients and mix until fully combined.
Grease a donut pan and fill the cavities with the batter.
Bake the donuts for 12-14 minutes or until a toothpick inserted in the center comes out clean.
Allow the donuts to cool in the pan for 8 minutes before transferring them to a cooling rack.
Enjoy your freshly baked spiced cake donuts!
Nutrition Facts
Calories: 357kcal, Carbohydrates: 55g, Protein: 5g, Fat: 12g, Saturated fat: 7g, Cholesterol: 37mg, Sodium: 254mg, Potassium: 166mg, Fiber: 1g, Sugar: 24g, Vitamin A: 91IU, Vitamin C: 1mg, Calcium: 80mg, Iron: 2mg
What makes baked spiced cake donuts so special?
Baked Spiced Cake Donuts are truly special! These delicious treats are made from a perfectly spiced cake dough that is cooked in a donut-shaped pan. The result is a light and fluffy donut that has all the flavor of a traditional cake donut but without the greasy texture and calories. Plus, they are easy to make and are the perfect addition to any breakfast, lunch, or dessert.
The secret to these amazing donuts lies in the spices. A combination of cinnamon, nutmeg, and allspice adds warm and inviting flavors while a hint of vanilla extract adds a delightful sweetness. The spices also help to give the donuts an irresistible aroma that will have your mouth watering before you even take a bite.
Another great thing about baked spiced cake donuts is that they can easily be customized with different toppings or glazes. From a classic chocolate glaze to a colorful rainbow sprinkles, the possibilities are endless. You can even get creative and make your own unique creations with whatever ingredients you have on hand.
Baked Spiced Cake Donuts are a true delight and the perfect way to treat yourself or your loved ones.
What are some tips for ensuring your donuts turn out perfectly?
Making the perfect donut is easier than you think! Here are some tips to help you get the most out of every batch of Baked Spiced Cake Donuts:
Use the right ingredients: When it comes to baking, quality ingredients will make all the difference. Make sure you're using high-quality butter, sugar, and spices.
Measure accurately: Measure all the ingredients precisely to ensure that the texture and flavor of your donuts come out just right.
Don't overmix: Overmixing can be a recipe for disaster. The gluten in the flour can become tough if overmixed, resulting in chewy, dense donuts.
Don't overbake: Overbaking can dry out your donuts, leaving them dry and tough. To avoid this, set a timer and check the donuts every few minutes.
Let them cool: Once the donuts are done baking, let them cool on a cooling rack for 10 minutes before serving. This will help the texture and flavor of the donuts.
What are some of the key spices used in this recipe?
If you're looking to make delicious and flavorful Baked Spiced Cake Donuts, then you're going to want to be sure to include the perfect spices! This recipe calls for a mixture of nutmeg, cinnamon, ginger, and cardamom to give the donuts that classic warm and spicy flavor. Nutmeg and cinnamon are the stars of the show, providing a sweet and pungent flavor, while ginger and cardamom add a subtle spicy kick. All four of these spices go together perfectly to create a donut that is both sweet and savory. You can adjust the amounts of each spice to your taste, or even add a few of your own favorites to the mix.
How can you customize the recipe to create your own unique flavor?
When it comes to baking spiced cake donuts, the possibilities to customize them to create your own unique flavor are endless! With a few simple swaps and tweaks, you can take this classic recipe and make it your own. Here are a few ideas to get you started:
First, think about what type of spices or seasonings you want to use. You can use ground cinnamon, nutmeg, ginger, cardamom, or allspice for a classic flavor. Or, for a more unique twist, try adding some unusual spices like star anise, juniper berries, or pink peppercorns. You can also experiment with different extracts like vanilla, almond, or peppermint for a sweet and flavorful punch.
Next, consider adding additional ingredients to the dough. Try adding chopped nuts or dried fruit for an extra boost of flavor and texture. For a more savory twist, add herbs like rosemary or thyme to the mix.
Finally, you can also customize the topping of your donuts. To make them even sweeter, try adding some melted chocolate on top. Or, for a more sophisticated flavor, drizzle the donuts with a glaze made of confectioners' sugar and citrus juice.
Whatever you choose to add, you're sure to create a unique flavor that will delight your taste buds.
What are some delicious toppings and glazes you can use to finish off your donuts?
When it comes to finishing off your baked spiced cake donuts, the sky is the limit! There are so many delicious toppings and glazes you can use to make your donuts even more delicious. Here are some of our favorites:
Chocolate glaze: Nothing says "yum" quite like a thick and creamy chocolate glaze. Drizzle your donuts with melted semi-sweet or dark chocolate and add some sprinkles on top for a little crunch.
Vanilla glaze: For a classic finish, a simple vanilla glaze will do the trick. Whisk together some powdered sugar and a splash of milk until you get a thick glaze.
Cinnamon sugar: This is a classic topping for donuts that never fails to please. Simply combine equal parts of granulated sugar and ground cinnamon and sprinkle it over your donuts and enjoy the sweet and spicy flavor.
Maple glaze: For a unique twist, try a maple glaze. Mix together some pure maple syrup and powdered sugar until you get a thick glaze.
Buttered pecans: For a crunchy topping that adds a hint of sweetness, try buttered pecans. Toast some chopped pecans in a skillet with melted butter, a pinch of salt, and a sprinkle of cinnamon.
No matter which topping or glaze you choose, your donuts are sure to be a hit.