Delicious Apple Crisp Recipe | Easy-To-Make Dessert
There's nothing quite like the smell of freshly baked apple crisp in the oven. It takes me back to my childhood, when my grandma would make a warm, comforting apple crisp for us every Sunday afternoon. Growing up, I loved helping her make it, learning the recipe and how to perfectly combine the ingredients to create a delicious dessert that always made us smile. To this day, I still make her apple crisp recipe and enjoy it with my family. Let me show you how to make it too!
Apple Crisp Recipe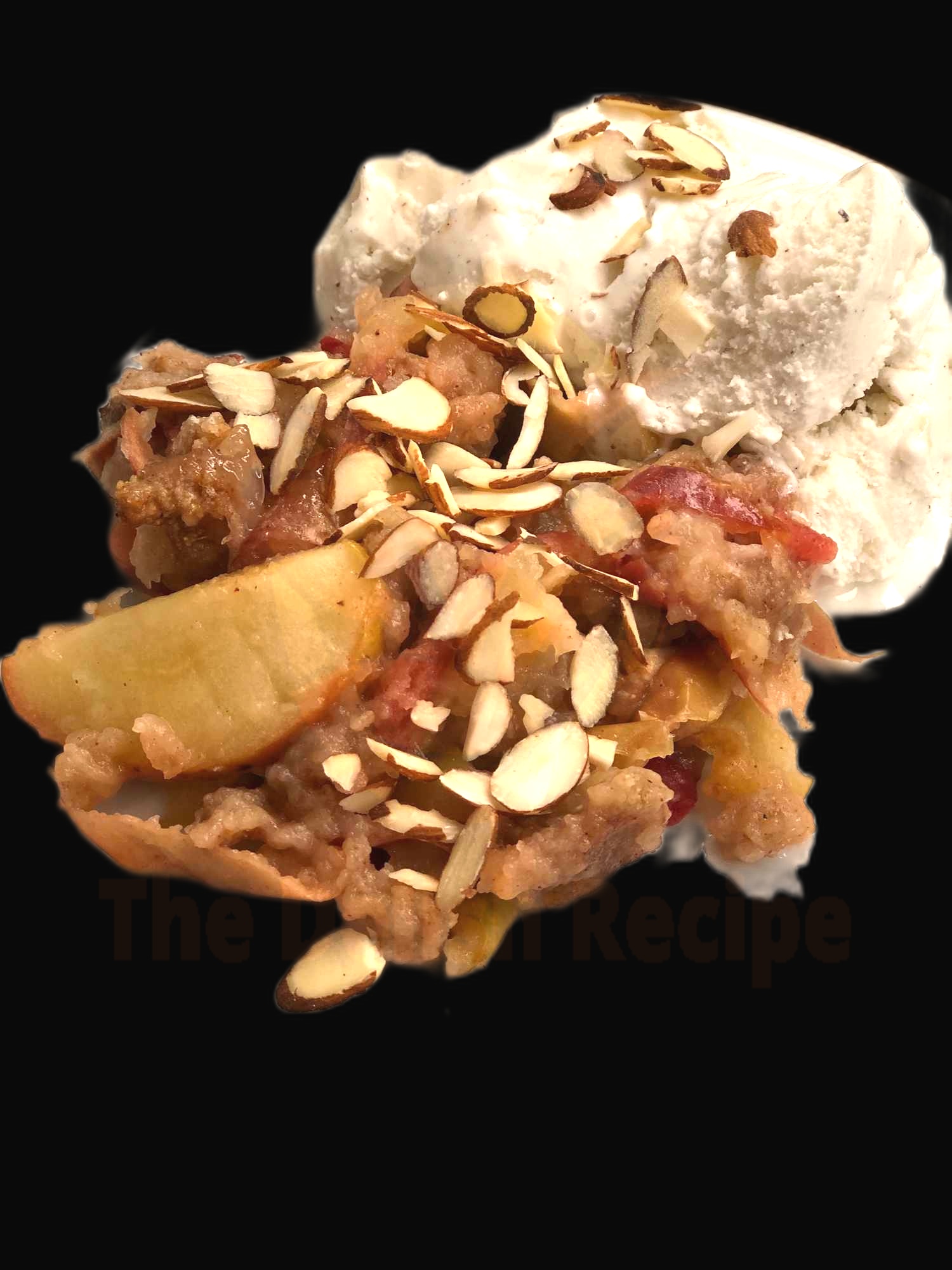 Ingredients
5 large apples, peeled, cored and diced
1/2 cup rolled oats
1/2 cup packed light brown sugar
1/4 cup all-purpose flour
1/4 cup cold butter, cubed
1 teaspoon ground cinnamon
1/4 teaspoon ground nutmeg
1/8 teaspoon salt
Instructions
Let's start making our delicious Apple Crisp! Preheat your oven to 350°F.
Peel, core, and dice the five large apples. Place them in a greased 9-inch pie plate.
Combine the rolled oats, light brown sugar, all-purpose flour, cold butter (cubed), ground cinnamon, ground nutmeg and salt in a medium-sized bowl.
Using a fork or your hands, work the mixture into a crumbly texture.
Sprinkle the crumbly topping over the apples in the pie plate.
Place the pie plate on the center oven rack and bake for 30-35 minutes.
After baking, let the Apple Crisp cool for 15 minutes before serving.
Enjoy your scrumptious Apple Crisp!
Nutrition Facts
Calories: 300 kcal,
Total Fat: 11g,
Saturated Fat: 7g,
Cholesterol: 30mg,
Sodium: 170mg,
Total Carbohydrates: 46g,
Dietary Fiber: 5g,
Sugars: 25g,
Protein: 4g.
What is the history of apple crisp?
Apple Crisp has been around for centuries! This beloved dessert is believed to have originated in colonial America, as one of the earliest recipes for the dish was written in 1796. It was often served with a variety of different ingredients, depending on the region and season. Apples were used most often, but sometimes other fruits such as cherries, peaches, and raspberries were used.
The classic Apple Crisp recipe, as we know it today, was published in the late 1800s. Its main ingredients are apples, butter, brown sugar, and oats. This combination creates the delicious crumble topping that makes Apple Crisp so irresistible.
Apple Crisp has been popular in the United States ever since, and it is now enjoyed all over the world. It is the perfect dessert for any occasion, and it's sure to please even the pickiest eaters. Now, when you enjoy a delicious Apple Crisp, you can be sure that you're partaking in a centuries-old tradition.
What makes apple crisp the perfect fall dessert?
Apple Crisp is the perfect fall dessert because it checks all the boxes for what you want in a cozy and comforting dessert. It's packed with cinnamon-spiced apples, has a crunchy and buttery oat topping, and is easily made in one pan. Plus, you can make it with whatever apples are in season and you don't have to worry about finding or rolling out pie crust. All these qualities make Apple Crisp an irresistible treat that's perfect for chilly fall days.
When it comes to the apples, you can really use any variety you like. Sweet apples like Honeycrisp and Braeburn work great, but tart apples like Granny Smith also make for a delicious Apple Crisp. You can peel them or leave the skin on, depending on your preference and the type of apple you're using.
For the topping, a mixture of oats, butter, sugar, and cinnamon is the classic combination. To make it even more decadent, you can add chopped nuts, coconut, or dried fruit. The topping should be mixed together until it resembles wet sand and then sprinkled over the apples. This results in a crunchy and golden topping that's the perfect contrast to the tender apples.
When it comes to baking, Apple Crisp only takes around 40 minutes in a preheated 350°F oven. When it's done, the apples should be bubbling and the topping should be nicely golden. Serve it warm with a scoop of ice cream or a drizzle of cream or custard and you've got the perfect fall dessert!
Apple Crisp is the perfect fall dessert because it's easy to make, bursting with cinnamon-spiced apples, and has a crunchy oat topping.
What are some tips and tricks for making apple crisp extra delicious?
Making apple crisp extra delicious is easy and fun! Here are some tips and tricks for getting the perfect apple crisp every time:
Pick the right apples – Use tart apples like Granny Smiths for the best flavor. Avoid mushy apples like Red Delicious.
Don't skimp on the sugar – Apples are naturally tart, so you'll want to use a generous amount of sugar to offset the tartness.
Add something extra – Try adding some chopped nuts, dried fruits, or spices like cinnamon to give the crisp an extra special flavor.
Don't overbake – Check the crisp frequently as it bakes and remove it from the oven when the topping is golden and the apples are tender.
Let it cool – Let the crisp cool for a few minutes before serving for the best flavor and texture.
What are the main ingredients needed to make apple crisp?
Making a classic apple crisp is actually pretty easy! All you need are some apples, flour, sugar, butter, oats, and cinnamon. Here's a breakdown of the ingredients and what to look for when you go shopping:
Apples: Any variety of apple is great for making crisp, but some of the best choices are Granny Smith, Honeycrisp, and Braeburn apples. These apples are tart and hold their shape when cooked, making them the perfect choice for a crisp.
Flour: All-purpose flour can be used to make the crisp topping.
Sugar: White granulated sugar is the traditional sweetener of choice, but you can also substitute light brown sugar or a combination of the two.
Butter: Salted or unsalted butter can be used for the crisp topping.
Oats: Rolled oats or old-fashioned oats (not instant oats) are ideal for making a crisp topping.
Cinnamon: Ground cinnamon is one of the key flavoring ingredients in a classic apple crisp.
What are some creative ways to make apple crisp?
If you're looking for creative ways to make an apple crisp, you're in luck! There are tons of fun and delicious ways to make this classic dessert. From adding spices and nuts to experimenting with different crusts, you can make your apple crisp truly your own. Here are some of our favorite creative ideas for making an unforgettable apple crisp!
Spice it up: Spice up your apple crisp by adding some cinnamon, nutmeg, and ground ginger. Not only will this give your crisp a warm and cozy flavor, it will also create a delightful aroma while baking.
Add nuts: Walnuts and pecans are a great addition to apple crisp. They add a delicious crunch and pair perfectly with the warm spices.
Try different crusts: Instead of the traditional oatmeal or buttery crust, try experimenting with different types of crusts. Graham cracker crusts, shortbread crusts, and even a streusel topping are all delicious options.
Get creative with the apples: You can use any type of apple for making apple crisp. Try using different kinds of apples to create a unique flavor. Granny Smith apples give a tart flavor, while Honeycrisp apples are sweet and juicy.
Add other fruits: Apples don't have to be the only fruit in your crisp. Try adding pears, cranberries, and even blueberries for a sweet and delicious twist.
No matter what creative ideas you come up with, apple crisp is sure to be a hit with your family and friends.
What are some creative ways to serve apple crisp?
When it comes to apple crisp, there are plenty of creative ways to serve it up! From individual servings in mason jars to apple crisp pies and even apple crisp cake, there's no limit to the possibilities. Here are a few creative ways to serve up this classic dessert:
Mason Jar Apple Crisp: For a fun twist on an old favorite, try making individual servings of apple crisp in mason jars. Layer the apples, cinnamon, and crumble topping for a fun presentation that makes for an easy grab-and-go dessert.
Apple Crisp Pie: Put a spin on traditional apple pie by making an apple crisp pie. Layer the apples and crumble topping in a pre-made pie crust for a delicious and easy dessert.
Apple Crisp Cake: For a unique take on apple crisp, try making an apple crisp cake. Layer thin slices of apples, cinnamon, and crumble topping between two layers of cake for a delicious show-stopping dessert.
Apple Crisp Parfait: Try making an apple crisp parfait by layering apples, yogurt, and crumble topping in a parfait glass. Top with a drizzle of caramel for an added touch of sweetness.
No matter how you serve it, apple crisp is sure to be a crowd-pleaser.