Air-Fried Carrots With Delicious Balsamic Glaze
I love trying out new recipes and this air-fried carrots with balsamic glaze is one of my favorites! There's something special about the combination of sweetness from the balsamic glaze and the slight crunch of the carrots that make this dish a real winner. Plus, it's one of the easiest recipes I've ever made. All you need to do is toss the carrots with a few simple ingredients and then air-fry them until they are soft and glazed. Trust me, once you try this dish, you won't be able to get enough of it!
Air-Fried Carrots with Balsamic Glaze Recipe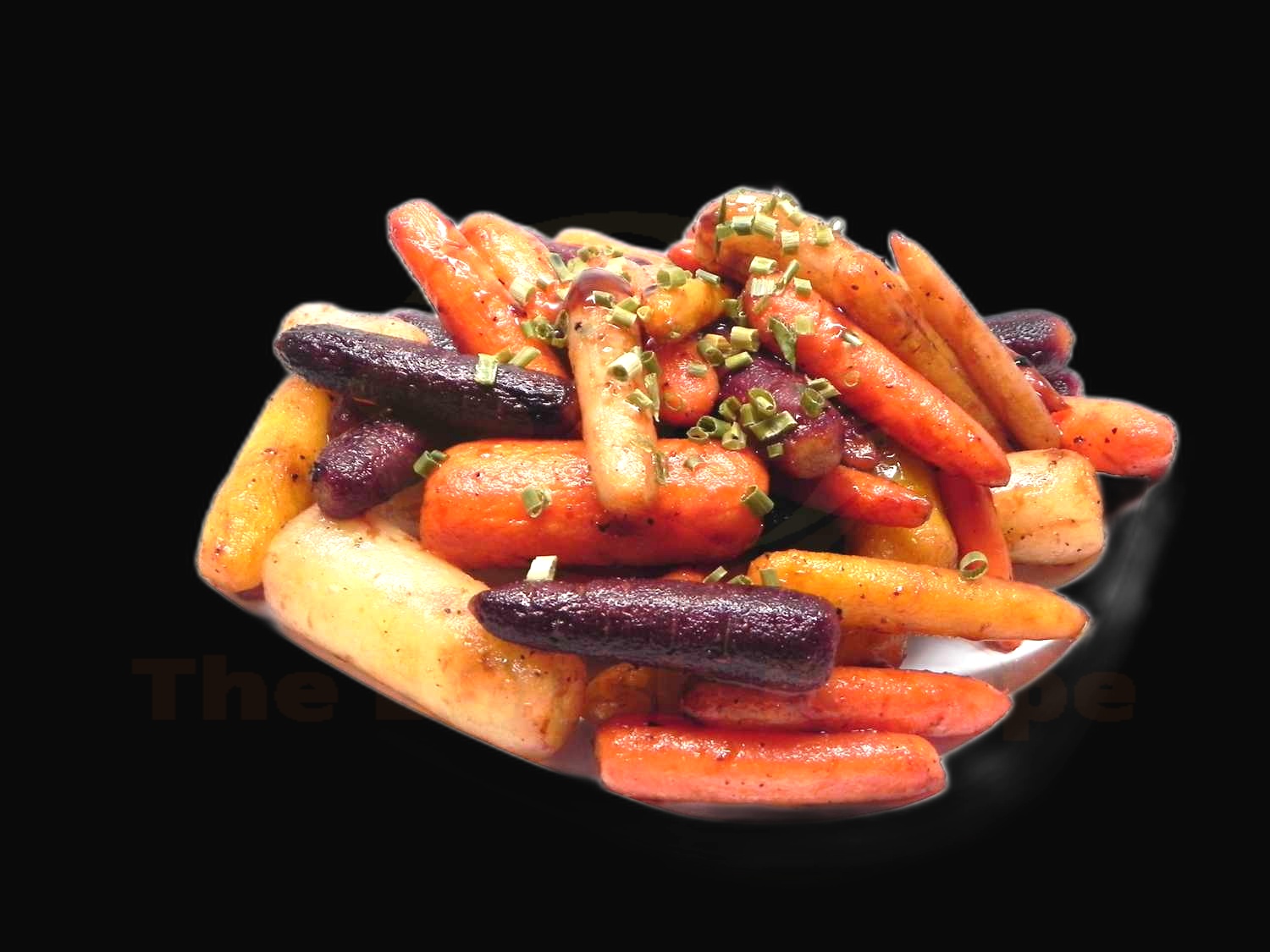 Ingredients
1 lb. carrots, peeled and cut into 1-inch pieces
2 tablespoons olive oil
Salt and pepper to taste
¼ cup balsamic vinegar
1 tablespoon honey
1 tablespoon freshly chopped rosemary
Instructions
Let's get started with this delicious air-fried carrot dish! First, grab 1 lb. of carrots and peel them. Then, cut them into 1-inch pieces.
In a large bowl, combine the cut carrots with 2 tablespoons of olive oil and season with salt and pepper.
Preheat your air fryer to 400°F. Then, add the carrot pieces to the air fryer and cook for 10 minutes.
While the carrots are air frying, make the balsamic glaze. In a small saucepan, add ¼ cup of balsamic vinegar and 1 tablespoon of honey. Simmer on medium heat for about 10 minutes, stirring occasionally.
Once the glaze has reduced and thickened, remove from heat and stir in 1 tablespoon of freshly chopped rosemary.
After 10 minutes, remove the carrots from the air fryer and toss with the balsamic glaze. Serve warm and enjoy!
Nutrition Facts
Calories: 125
Fat: 6g
Carbohydrates: 14g
Protein: 1g
Sodium: 70mg
Sugar: 6g
What are other ways to enjoy air-fried carrots?
One of the best things about air-fried carrots with balsamic glaze is that there are a lot of ways to enjoy them! Whether you're looking for an easy side dish for dinner or a tasty snack, air-fried carrots are incredibly versatile. Here are some other great ways to enjoy air-fried carrots:
Add them to a salad. Air-fried carrots make the perfect addition to a salad. For a delicious lunch or dinner option, try adding them to a bed of greens, some cooked quinoa, and your favorite dressing.
Turn them into a dip. Air-fried carrots can be pureed with some garlic, herbs, and olive oil to make a flavorful dip. Serve with some warm pita bread or your favorite crackers for a tasty snack.
Put them on a pizza. Air-fried carrots add a sweet and savory flavor to pizza. Try topping one with some caramelized onions, crumbled feta, and a drizzle of balsamic glaze for a unique twist on a classic.
Use them in a wrap. Air-fried carrots can be combined with some hummus, greens, and your favorite vegetables to create a tasty wrap. Enjoy it as is, or heat it up in a panini press for a warm and delicious lunch.
What are the benefits of air-frying carrots?
The Benefits of Air-Frying Carrots:
Air-frying is a healthier alternative to deep-frying, using little to no oil. This helps to drastically reduce the amount of fat and calories in the dish.
Air-frying is a fast and easy way to cook carrots. It only takes about 20 minutes for them to turn crispy and delicious.
Air-frying locks in the natural flavor and sweetness of the carrots, making them even more enjoyable to eat.
Adding a balsamic glaze to the carrots helps to complement their natural flavor, creating a complex and flavorful dish.
Air-frying carrots gives you a nutrient-rich side dish that's full of vitamins and minerals. Carrots are a great source of dietary fiber, potassium, and vitamin A.
How does the balsamic glaze add flavor to the dish?
The balsamic glaze adds a sweet and tangy flavor to the air-fried carrots. The glaze is made with balsamic vinegar which has a unique taste of its own. The glaze also has other ingredients such as brown sugar, garlic, and spices that add complexity and depth to the flavor.
The glaze is brushed over the carrots while they are still hot, allowing the glaze to be absorbed and impart its flavor. The balsamic glaze also creates a delightful crispness on the outside of the carrots that adds a great texture and contrast to the soft inside.
The balsamic glaze adds a delicious and intense flavor to the carrots that makes this dish stand out. It is the perfect accompaniment to the air-fried carrots and brings a sweet and savory aspect to the dish.
What tips can you share for cooking perfect air-fried carrots?
Start by prepping the carrots. Peel the carrots and cut into rounds that are about the same size.
Toss the carrots in a bowl with oil and a pinch of salt.
Place the carrots in the air fryer. Cook for 8-10 minutes. You'll know they're done when they're golden brown and starting to caramelize.
While the carrots are cooking, mix together some balsamic glaze. You can make your own or buy a pre-made glaze.
When the carrots are done, remove them from the air fryer and toss with the balsamic glaze.
What other vegetables can you air-fry?
Craving something a bit different from the classic air-fried carrots? Don't worry, there are plenty of other vegetables you can air-fry! From Brussels sprouts to cauliflower, to zucchini and squash, the possibilities are endless. Plus, air-frying is a healthier alternative to traditional deep-frying methods, so you can enjoy your vegetables with a guilt-free conscience!
For those looking to spice things up, you can easily create crunchy, savoury snacks with potatoes, sweet potatoes, and even root vegetables like beets and parsnips. Simply slice them into wedges or fries, season with your favourite spices, and air-fry until golden brown and crispy. The result? Delicious and nutritious snacks you can feel good about eating.
If you're looking for a more creative option, why not try air-frying mushrooms, broccoli, and bell peppers? These vegetables are perfect for a variety of dishes, and they cook quickly in the air-fryer, giving them a deliciously crispy texture. You can even use them to make veggie burgers and other tasty treats!
So, the next time you're feeling adventurous in the kitchen, don't forget that air-frying is a great way to enjoy all kinds of vegetables.
What other glazes can you use to add flavor to air-fried carrots?
When it comes to air-fried carrots, the options for adding flavor don't stop at balsamic glaze! You can add a variety of delicious glazes to your air-fried carrots to get creative and change up the flavor. Whether you're looking for something sweet and savory, or something more pungent and spicy, there's a glaze out there for you.
For a sweet and tangy glaze, you can try adding a teriyaki glaze. The combination of soy sauce, garlic, ginger, and pineapple juice make this glaze an irresistible topping for your air-fried carrots. It's the perfect mix of salty and sweet with a hint of garlic and ginger to give it an extra kick.
If you want something with a bit more heat, you can try a spicy chili glaze. This glaze is made with chili powder, cumin, garlic, and brown sugar, giving it a sweet and smoky flavor. The chili powder adds a nice kick to the glaze, making it the perfect topping for air-fried carrots.
For a more traditional flavor, you can opt for a honey-mustard glaze. This glaze is made with mustard powder, honey, garlic, and lemon juice. The combination of the tart and sweet flavors make this glaze the perfect complement to air-fried carrots.
No matter which glaze you choose, your air-fried carrots will be sure to impress. With so many options to choose from, you can get creative and experiment with different flavors. Give these glazes a try and you'll be sure to find one you love.